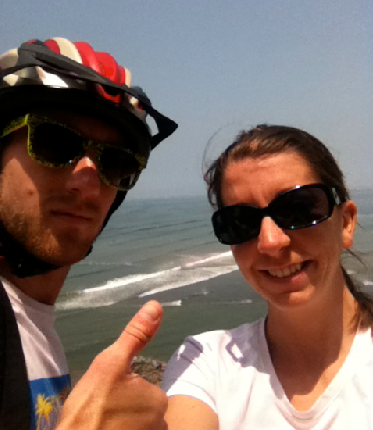 A Varied Palette in Peru - Teaching English in Peru
By Caitlin Self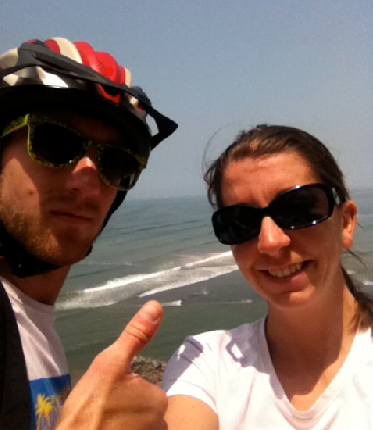 "Actually, today is my last night," I
stated to a local at the bar where I worked.
"Oh really, that's too bad. What are you doing next?" he inquired, assuming I'd gotten a "real" job in the area, or that I was moving on to some other restaurant down the street.
"Teaching English in Peru," I stated, as I walked away.
I had variations of that short and simple exchange over my last month of employment in the states. Some thought "Peru" was the name of a new restaurant, while others began long-winded stories about their travels around the world.
Most thought it was fascinating that a 20-something and her boyfriend were leaving the comforts of San Diego, CA to embark on such a questionable adventure. I didn't care; I was ready.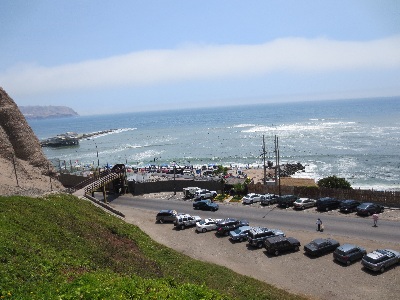 Last spring, my man and I embarked on a 3-month backpacking trip throughout Southeast Asia, China, Hong Kong, and Japan. About a month into our trip we started contemplating the life we'd lead after returning to the states, and quickly decided that life in the states just wasn't for us anymore. That decision was all it took, and less than a year later, I'm writing this from a beautiful rooftop apartment in Lima, Peru.
We have a terrace. We can see the park at the center of Miraflores from the terrace. We can also catch the cotton-candy sunset or the rapidly rising sun from here. This is where a typical day begins. If we have classes to teach in the morning, we're up early, drinking tea and eating huevos outside. When we don't have morning classes to teach, we make leisurely breakfasts and talk about the exciting details of our new lives.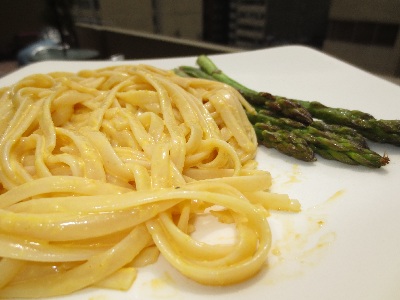 The two of us share a 4-bedroom apartment with three other expats and their significant others. It sounds crowded, but we're on different schedules, making it easy to share our communal space. My favorite thing about Lima so far is the food! The experience of not only eating meals at local restaurants, but also creating meals using Peru's unique ingredients, makes for a happy Caitlin.
Like many other travelers, my interests are varied, including reading, writing, cooking, eating, and running. For this reason, traveling is the ultimate experience. I can write from anywhere in the world, I can read about new places regularly, I can try hundreds of different food items, and I can quite literally, run around the world. Food truly tops them all, and Peru is the best place to experience it.
We've also had the happy experience of meeting several Peruvians who are delighted to share the tips and tricks of the local cuisine. Want to know how moms here serve quick, easy, and inherently Peruvian meals? Tallarin a la huancaina is the answer. Curious about Peru's unique flavor profile? Most meals here include the same three ingredients: red onion, Aji pepper, and garlic. This common combination gives Peruvian food a somewhat consistent taste. Sure, I could have learned this on my own, but it is so much better working through my broken Spanish and a local's broken English to get there.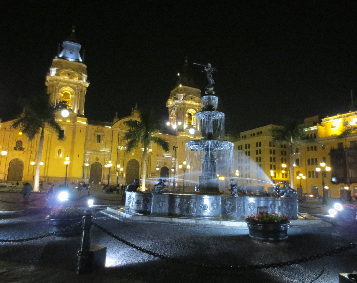 After a few days here, we were lucky enough to
make an English-speaking Peruvian friend through Airbnb, and she has shown us countless amazing things about her fair city. It's not easy living like a local when your Spanish is almost nonexistent and your skin is the color of 2% milk. Maria changes all of that. She has taken us to Ayahuasca, a swanky bar in Barranco where locals go to celebrate birthdays; to The Catedral in Central Lima for the best Pisco Sour I've tasted so far; and to a little hole-in-the-wall Cevicheria in Miraflores with amazing prices. The Lonely Planet is great and all, but it doesn't match the know-how of a local Peruvian guide. We've only been here for three weeks, and it's already an experience of a lifetime.
All that traveling is fine and good, but a gal with a hefty student loan payment has to make a living. As an English speaker, how can you submerge yourself in a foreign culture and still make money? By teaching English, of course!
My online TEFL class with International TEFL Academy is what made this lifestyle possible. When it comes to the actual teaching experience, I've never felt so over-prepared for a task in my life. The interview process was tedious and stressful, but almost every company who offered an interview also offered a job. They like native speakers with in-class practical experience, which is something I'm glad the International TEFL Academy required. Luckily, the company I chose provides one of the best English texts available, but gives me the freedom to improvise and modify the lesson plans as I see fit.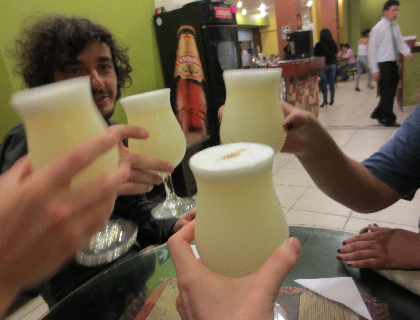 The schedules of teaching Business English are harder to get used to. I am home from my first class before anyone else even leaves for work, and I'm in bed before anyone else finishes dinner!
If a new schedule is the hardest part of this lifestyle, then I count myself lucky. Lucky to have a traveling partner, lucky to support myself abroad, and lucky to fuel my passions in Peru.
Caitlin Self is a long-time writer, runner, and eater, with a voracious appetite for travel. After years as a citizen in San Diego, she finally made the leap to become an Expat in South America. She's currently teaching English as a second language to business professionals in Lima, Peru. Once she's traveled the entire world, she hopes to do it again.
Founded in 2010, International TEFL Academy is a world leader in TEFL certification for teaching English abroad & teaching English online. ITA offers accredited TEFL certification classes online & in 25 locations worldwide and has received multiple awards & widespread recognition as one of the best TEFL schools in the world. ITA provides all students and graduates with lifetime job search guidance. ITA has certified more than 25,000 English teachers and our graduates are currently teaching in 80 countries worldwide.
Want to Learn More About Teaching English Abroad?
Request a free brochure or call 773-634-9900 to speak with an expert advisor about all aspects of TEFL certification and teaching English abroad or online, including the hiring process, salaries, visas, TEFL class options, job placement assistance and more.