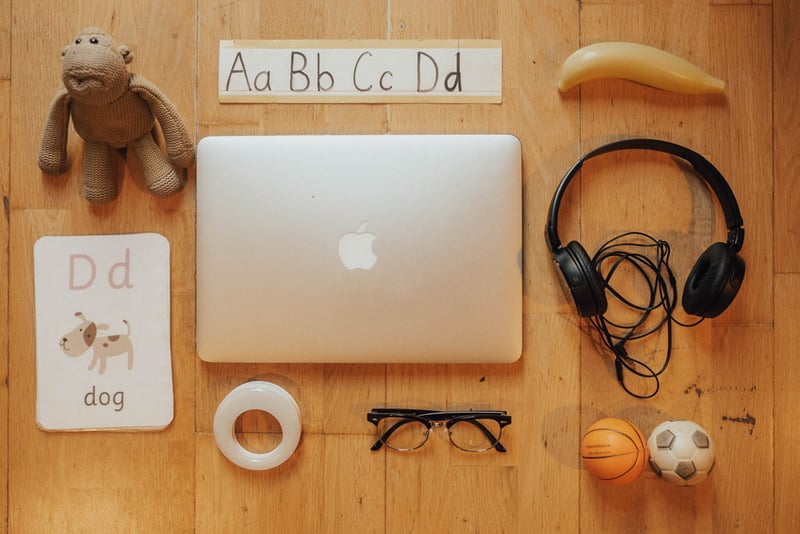 What Qualifications Do I Need to Teach English Online?
You will need to meet the following requirements in order to teach English online. Note that the qualifications below will vary depending on which company you want to work for:
TEFL certification.
Be a fluent English speaker.

Students learn more effectively by interacting with fluent English-speakers.

Bachelor's degree.

This requirement varies by employer.

Sought-after traits also include:

Being personable.
Having great presentation skills.
It's common for someone already teaching English abroad at a language school to also teach English online to boost their income. Many teachers also take advantage of teaching English online after returning home from being abroad.
Finally, there are many people who make teaching English online their full-time job no matter where in the world they are. The flexibility of working and teaching remotely provides a fantastic way to support yourself while working from home, while traveling, or while living abroad.
We have a more detailed guide on basic requirements for teaching english online:
[Learn More]: Requirements for Teaching English Online.
---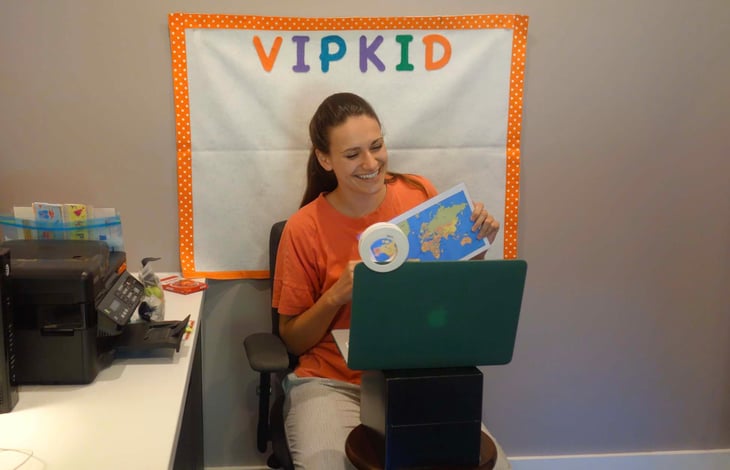 How Do I Teach English to Non-Native Speakers if I Don't Speak Another Language?
Language classes are typically taught entirely in English. For example, imagine you're teaching a group of students from South Korea. Even if you were completely fluent in Korean, you would still be teaching the class 100% in English.
The students you will be teaching already have some level of English language proficiency, and classes are conducted entirely in English. Students want to learn from a real native English-speaker and be able to mimic your accent and dialect to pick up on exactly how you speak. This is why your ability to speak fluent English is in such high demand.
Want to learn more? Check out our guide to the most common questions people who don't speak a foreign language ask about teaching english abroad:
Learn More: Teaching English Abroad When You Don't Speak a Foreign Language.
---
Online English Lessons vs In-Person Classes
There are several reasons students are turning to online English classes over a traditional classroom approach.
Efficiency: Neither the teacher nor the student needs to commute to the classroom therefore saving time and money;
Less distraction: When teaching one-on-one or in a small group, there are fewer students and fewer distractions that might detract from the lesson;
Back-tracking: Some online English teaching platforms have the capability to record the class and use it for reference at a later date. This way the student always has something to look back on. In-person classes do not offer this;
Cheaper: An online English class is often cheaper than an in-person class at a language school;
Flexibility: In-person classes at a language school often require you to be in attendance on a set day and time. If you can't make that time slot, then you miss the class. If you're a student, online English classes allow you to pick the time you would like your lesson, and if you're a teacher, you get to set your own hours. This is especially beneficial for adult students that are already working part or full-time jobs.
---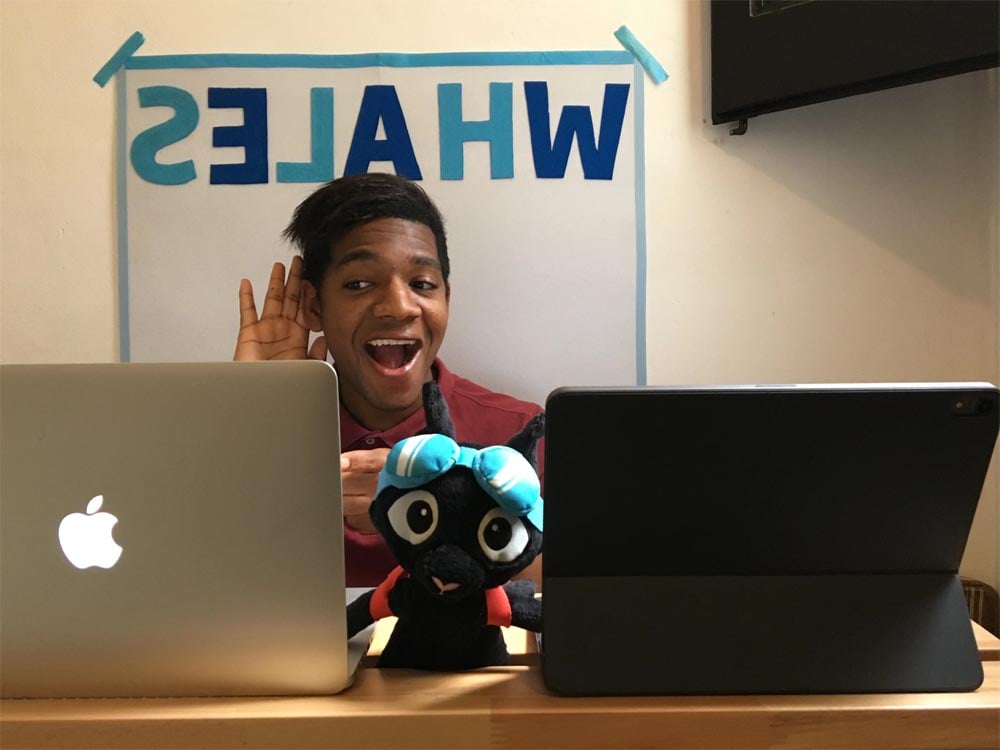 Types of Students, Class Sizes & Online Session Types
There are typically two different session-types when teaching English online:
One-on-one or Private Sessions: These will involve just you (the teacher) and only one student.
Small Groups: Anywhere from 2-6 students at a single time.
Just like traditional classroom teachings, students can range from young children to adults. Most online English teaching companies will specify whether their clients are students, adults, or business professionals (and may even cater to all three). You will also find that some companies only offer classes to a single demographic.
For example, VIPKID and DaDa only provide a learning experience for Chinese children ages 4-12, whereas English First conduct group and private lessons to adult learners, and Learnlight focuses on business professionals that work for specific organizations.
Online English lessons can also take different forms. Some include:
Structured Classes: Platforms like VIPKID and Dada, for example, will provide you with a set of curriculum to follow. Session plans and slides will be provided to you before each class and everything is already organized for you - you just need to show up and teach the class.

General or conversational English: help students with their fluency, introduce new words and terms, and correct basic errors;

Business English: focus on topics pertaining to email writing, presentations and proposals, and you can even cater to a particular niche or industry;

Examination preparation: tuition for students preparing for their IELTS, TOEFL, or Cambridge proficiency exams;

Job interview coaching: sessions focused on common job interview discussions and topics like strengths and weaknesses, talking about themselves, and why they deserve the job;

Trial English lessons: this will allow you to get to know students a little before committing to any future classes. This is often provided free of charge or at a discounted rate.
---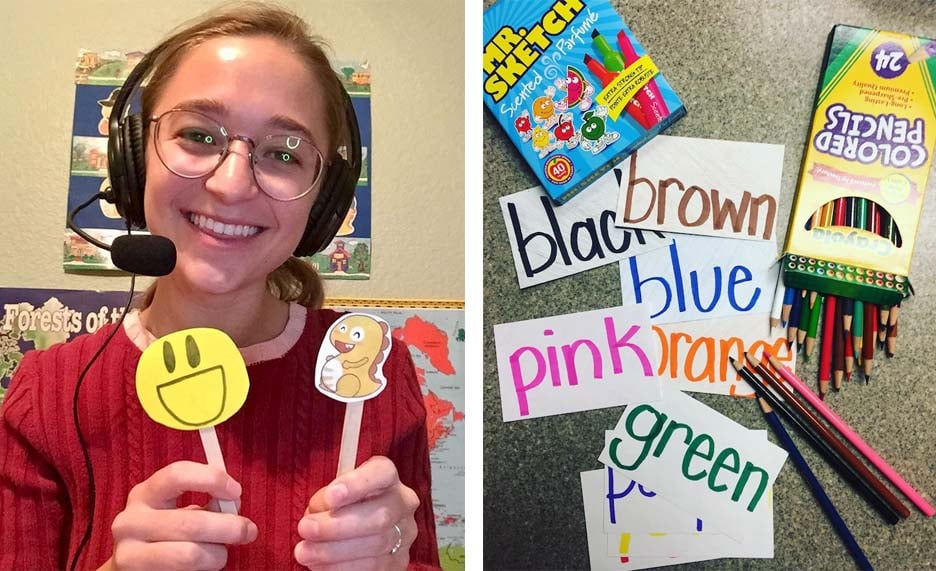 Typical Schedule & Hours of Work for Online English Teachers
Teaching english remotely fits into the overall "gig economy". In other words, your best friend here is flexibility. The beauty of teaching English online is that the hours you work and the schedule you set is completely up to you. While some online teaching companies may require you teach a specific number of work hours, you can usually choose from teaching only a few hours per week to 20 hours, or even turn this into a full-time career with 40+ hours.
Some online English teaching companies provide a flat-rate of payment per hour, while other platforms allow you to set your own hourly rate. Generally speaking, online English teachers typically make anywhere between $10 - $40 USD per hour depending on their level of qualifications. Platforms such as VIPKID offer base rates plus incentives. Incentive bonuses may include things like an extra $1 of pay per class if you complete more that 45 classes per month.
If you're a first-time English teacher with a TEFL certification, you will likely be making $10-$20 per hour to start. If you choose to work for open-marketplace type companies where you set your own rate, know that a percentage of your rate may be deducted by that company as a fee.
If you choose to travel the world and support yourself via teaching English online, you can make a very comfortable living by earning U.S. dollars in countries that have a cheaper cost of living such as the Czech Republic, Vietnam, Cambodia, Thailand, Colombia, Nicaragua, and Costa Rica.
Example 1: Light Workload (making $20 per hour)
Ideal for those looking to just make some extra cash on the side by working evenings and weekends. You likely still have a regular full-time job that you are working.
1 hour, 2 nights a week + 3 hours on weekends = $100 per week

Total time commitment = 5 hours per week / 20 hours per month

Total earnings = $400 per month
Example 2: Medium Workload
Ideal for those wanting to earn the equivalent of a part-time job.
4 hours/day , 3 days a week = $240 per week

Total time commitment = 12 hours per week / 48 hours per month

Total earnings = $960 per month
Example 3: Heavy Workload
Ideal for those that want to establish themselves as full time online English teachers with some wiggle room to take on more classes if desired.
5 hours/day, 5 days/week =$500/ per week

Total time commitment = 25 hours per week / 100 hours a month

Total earnings = $2000 per month
Curious about how much you can earn from teaching English online? We've got you covered: How Much Money Can I Make Teaching English Online?
Apart from hours, it's common for companies to contract you for a particular period of time. For example, VIPKid requires a 6-month minimum contract commitment from all applicants with room for renewal.
View our Teach English Online Employer Comparison Chart to compare minimum hourly requirements across several different online ESL schools.
---
Countries With a High Demand for Online English Teachers
Now that you know more about the qualifications, class sizes, and work-life balance of teaching english online, what about countries that have a lot of demand for online english teachers?
The number one country with the most students taking online English lessons is China. Online teaching platform giants like VIPKID and DaDa cater to the Chinese demographic and with these platforms, it is most common that you will be teaching children ages 4-12. Other countries within Asia that have students looking to take online English lessons include Korea and Japan.
OpenEnglish, anther online teaching platform, caters to the Latin America demographic, meaning you may have students from Mexico, Argentina, Brazil, Colombia, etc. Students that take English classes via this platform vary in age from children all the way through to adults.
If you're looking for more diversity in terms of which country your students come from, there are open-marketplace style platforms like iTalki, Cambly, or Preply that will offer this to you. Students that use these platforms for online English lessons come from all around the world and also range from children through to adults. Given the style of these platforms though, it is more common that your students will be older.
---
Finding Online English Teaching Jobs
Now that you know a lot more about Teaching English online (TEO), it's time to learn more about how to find a job teaching English online, and how to size up and compare potential employers. Not all online English teaching jobs are created equal. That's why we've done the research for you and compiled a comprehensive list of over 100 ESL schools that hire online English teachers.
In addition, we created a detailed comparison chart so you can see exactly how each employer stacks up, and be able to choose the online English teaching job that's right for you.
Teach English Online Employer Comparison Chart: Our Employer Comparison Chart is downloadable and makes it easy for you to compare popular online ESL schools by breaking down things like educational requirements, rates of pay, contract lengths, minimum hours, and much, much more! We update this list regularly so it is forever growing..


Teach English Online Employer Index: An index page that has links to over 100 online ESL schools. These are simply links to their websites and does not provide the same amount of detail that our Employer Comparison Chart mentioned above does.
We've also put together lists of companies hiring for online English teaching jobs that don't require a college degree, that don't require native English speakers, and that offer classes only to adult learners:
---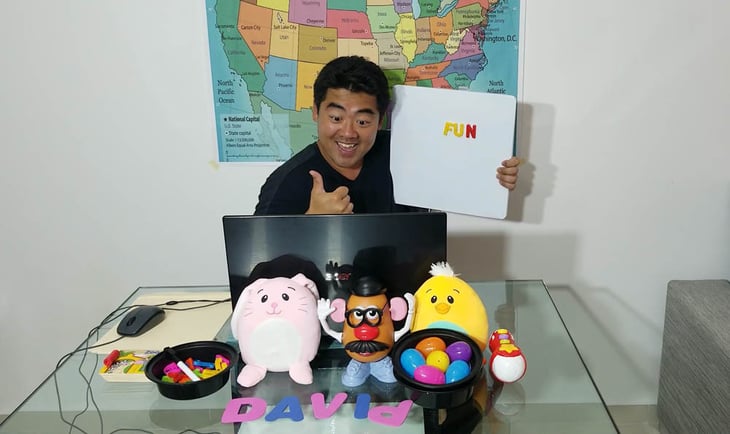 Essential Tools for Teaching English Online
Another advantage of teaching English online is the fact that getting started is relatively easy and start-up costs are generally low (given you already have access to all the required equipment necessary). The main essentials you will need to teach English online include:
HARDWARE:
→

Laptop or desktop computer

→

Webcam

→

Reliable, high-speed Internet connection

→

Microphone and a headset (headset not obligatory but definitely helps)
SOFTWARE / VIDEO PLATFORM:
For smaller, lesser-known companies, it's common that you will be using Skype or Zoom to teach your English lessons. An alternative to both of these is Google Hangouts. Becoming more popular in recent years, Zoom receives praise from online English teachers for having excellent sound and HD video quality, as well as a more reliable connection when compared to Skype.
For larger, well-established companies, it's typical for them to have developed their own educational platforms to facilitate online classes – VIPKID is one of these (as shown below).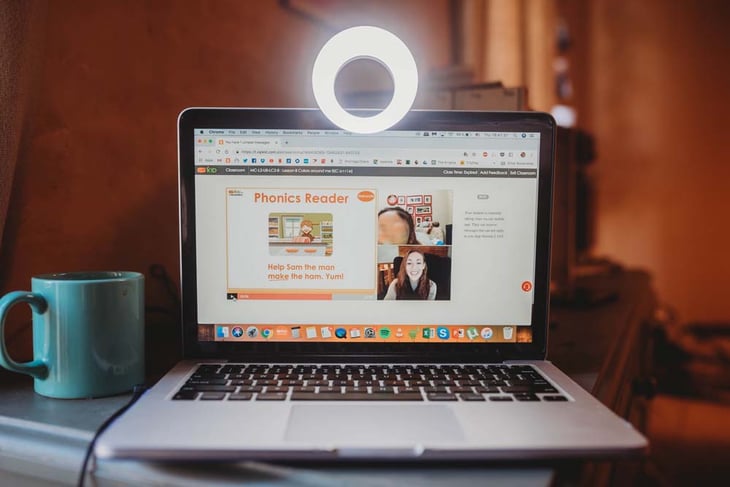 Let's delve further into the benefits of each of these video/voice platforms:
SKYPE- Benefits include:

→

Most well-known and commonly used video platform

→

One-on-one video calls

→

Group video calls

→

Can be used as an instant messaging service

→

Screen-sharing capabilities

→

Free to use

ZOOM - Benefits include:

→

Fantastic, reliable connection

→

HD video and audio lessons

→

You can embed videos and play the audio from a video during a lesson

→

Screen-sharing capabilities

→

Use annotations like a whiteboard while screen-sharing

→

Facilitates both private and group video/chat

→

You can schedule and have recurring lessons

→

Basic plan is free to use and allows unlimited 1-on-1 meetings as well as 40 minute max. group meetings (if group classes will be 40+ minutes, you can upgrade to the Pro Plan for $14.99 per month)

→

You can create "break out rooms" to partner students off together when teaching in small groups

→

Students can record and save their sessions to their hard drive (or part of a session) for later use

GOOGLE HANGOUTS - Benefits include:

→

Free

→

Calls can be made to anyone with a Google account

→

One-on-one video calls

→

Group video calls

→

Chat capabilities

→

Screen-sharing capabilities

→

You can embed YouTube videos into your sessions

→

You can record your session for later use

→

Google Effects adds to the fun, especially if you are teaching children

→

You can use a whiteboard through a third-party application called Web White Board

OTHER:
→

A PayPal account (the most common form of online payment among online English teaching companies)

→

A quiet, well-lit home office or work space
SUPPLEMENTAL TOOLS:
Some companies will provide you with lesson plans and curriculum to follow, whereas other companies will expect you to supply your own. For example, DaDa and VIPKid provide you with a full curriculum, you just log in before each class to look over the lesson plan set for that session – very little prep work is required.
Some items that complement lesson plans and help aid in successfully conveying a message or teaching to a student via webcam include:
→ Whiteboard + markers

→ Flashcards with letters + letter combos to use for spelling
→ Picture flashcards with colors and shapes
→ Hand puppets (favorable among younger students)
→ Magnetic letters + magnet board
[Read More]: 6 Essential Supplies & Classroom Props for Teaching English Online
---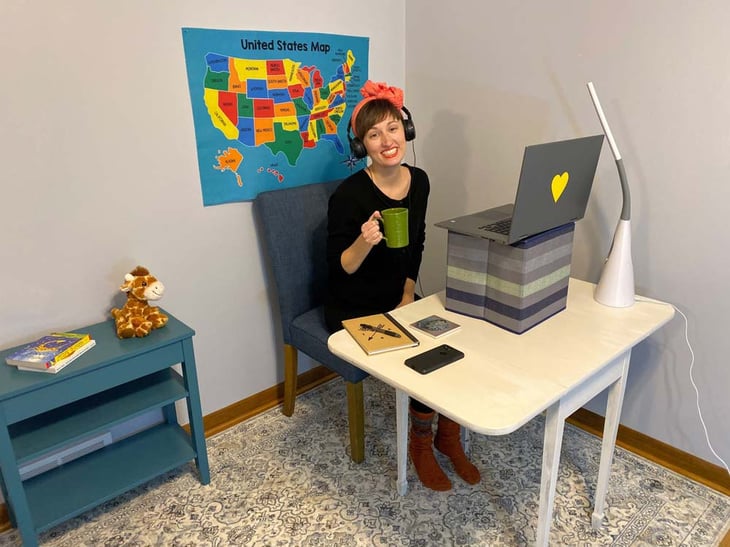 Teaching English Online While Traveling
Most online English teaching companies give teachers the flexibility and the opportunity to make good money while traveling, or working remotely from home. However, before you book your flight to travel across Asia while teaching English online, here are a few things to consider:
Line up your online English teaching job before you leave: It can take up to a month from your initial application to teaching your first class. Secure your job before you leave to travel. Read More: Why you should teach English online before going abroad.

Once you are hired, it might take a few weeks before your schedule fills up regularly. Have a contingency plan in case all those slots you open up don't fill up right away. This is especially true if you start during a holiday like October break or Chinese New Year. Be patient. Students will come, it just takes some time to build up a regular following.
Make sure the place you are going has a reliable high-speed internet connection. Make sure to ask whoever you are staying with to run a speed test and give you their exact internet speeds. Don't book accommodation without checking the internet. If possible, travel with a backup internet plan like a phone that can do hotspots
Take your classroom with you!
---
Specialty Class: Teaching English Online
Here at ITA, we always strive to provide the best TEFL training & guidance possible, which is why we now offer an optional Teaching English Online (TEO) Specialty Class available to all alumni at the completion of their TEFL certification.
This class is taught by university-level professors with extensive experience in the online teaching field. This course provides you with a specialized, professional skill set, and also access to a wealth of resources including videos, course design blueprints, and step-by-step activity plans. This two-week, part-time class is 100% online and can be taken from anywhere in the world on virtually any device (12-15 hours per week course time).
Teaching English online requires a very different skill set than teaching in-person in a classroom. This 30-hour, 2-week Teaching English Online Certification Course prepares you for those differences. Everything from understanding different TEO platforms and dealing with technology glitches, to strategies for boosting participation and engagement in online classrooms will be covered in this class.
This interactive online class prepares students to teach both adults and young learners online, and it touches on specific techniques for working with each respective demographic. Students will learn various pathways and methods of online delivery, how to develop an online presence as an English teacher, how to market themselves as a professional English teacher and prepare materials to begin job searching immediately upon class completion.
Read More: Planning to Teach English Online? 4 Reasons You Need ITA's Teaching English Online Specialty Class.
---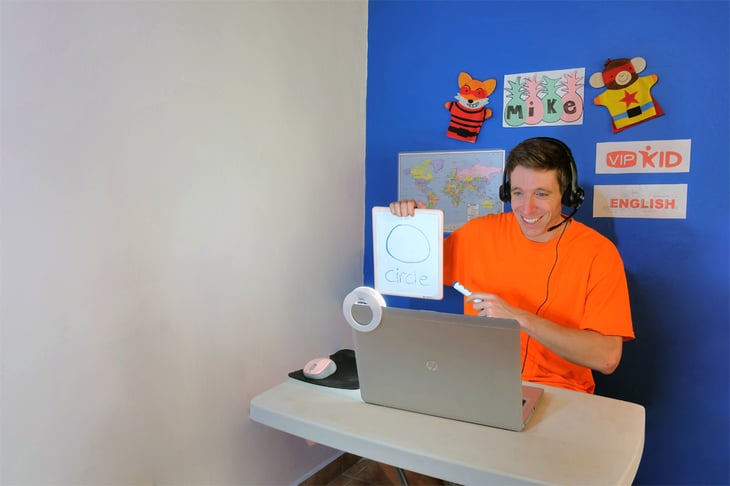 ITA Alumni Perspectives on Teaching English Online
"It may sound corny but choosing to be an online English teacher has seriously changed my life. It has allowed me to travel and connect with so many people and different communities, both online and in person! I couldn't have imagined the joy I'd experience teaching my little babies when I first set out on this teaching and traveling journey and completed my TEFL course with ITA. I love being able to apply the teaching methodologies I learned in the course and see both my confidence and my student's confidence grow after every class."

- Jocelyn Hellested

"In May of 2018, I received my last fat paycheck from Corporate America after I voluntarily quit my "good job" as a packaging engineer in order to pursue a new path in life and teach English online. Nowadays, I earn a tiny fraction of what I used to make, but I've found that my quality of life has actually improved. I carry my work with me wherever I want to go, and I've taught online from many countries besides Italy, including Spain, Germany, Austria, Romania, Hungary, Slovakia, and the Czech Republic."

- Amelia Simkins

"As a non-native English speaker, Chile offers few opportunities to teach in a brick and mortar classroom. But with this difficulty came the opportunity of a lifetime: teaching online. Latin America is much cheaper so the money I can earn online goes further. Everything about my new position has lived up to my expectations. Working online is not for everyone but teaching children on the other side of the world who would not have had the chance to learn English without this program is so rewarding and I get to stay in my beautiful, central apartment and enjoy the view while I work!"

- David Pena

"I make more money working online here in Turkey than if I was teaching at a typical brick and mortar school. If you asked my 20 year old self where I would be in 25 years I never would have imagined myself living halfway across the world and teaching English online. I am proud of myself for stepping out of my comfort zone. You only live once! Get out there and do what you have dreamed of doing!"

- Christine Aslan
Want to Learn More About Teaching English Abroad?
Request a free brochure or call 773-634-9900 to speak with an expert advisor about all aspects of TEFL certification and teaching English abroad or online, including the hiring process, salaries, visas, TEFL class options, job placement assistance and more.