Teaching English in Spain vs. Argentina: The Ultimate Throwdown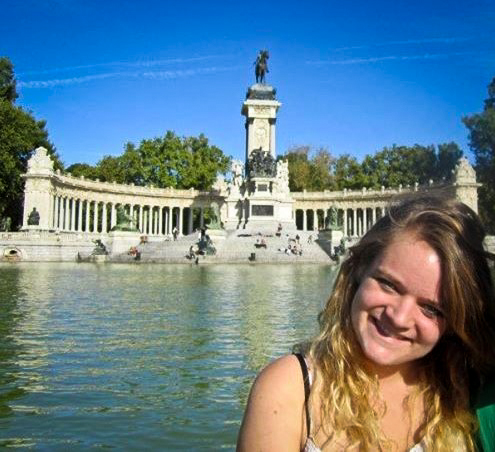 Teaching English in Spain vs. Argentina: The Ultimate Throwdown
Spain vs. Argentina:
Two ITA Advisors Go Head-to-Head on
Which is Tops for Teaching English Abroad

By: Lauren Davis & Helen Schenck
Good evening and welcome to an ITA match-up that promises to be a clasico in every sense of the word. On one side of the world, measuring in with a mainland area of 2,780,400 km2 and some darn good chorizo, we have ARGENTINA….. And on the other side of the world, coming in as the sixth largest country in Europe with some tasty sangria to boot, we present SPAIN. And tonight's prize?
ETERNAL TEACHING GLORRRYYY!

Representing for the Paris of South America we present Lauren Davis, a former English teacher in Buenos Aires, connoisseur of Argentine boxed wine, and current International TEFL Academy Admissions Advisor to the stars.
In the opposite corner, we introduce Helen Schenck. Helen is an aficionado of all things Penelope Cruz and croquetas and today represents Spain, where she has studied and taught English, on arguably the best peninsula out there.
Jeff: (Jeff, an unbiased bystander who taught in Asia, who has had enough of Helen and Lauren's witty repartee on Spanish-speaking countries, has agreed to put this battle of conversation to rest once and for all): I want a good clean fight between you two. Nothing below the cinturon ("belt"...thank you google translate), good luck to you both.
Round 1: Which country offers the best regional travel opportunities?
Lauren: Argentina is the obvious answer...traveling from Buenos Aires to Mendoza (the biggest Malbec producer in the world) is easy and cheap on Omni Lineas. Now, if you are looking for international travel, hop on LAN Airlines, where you can find affordable flights to Colombia, Chile, and Peru. Or, get on a ferry and spend a weekend in Uruguay.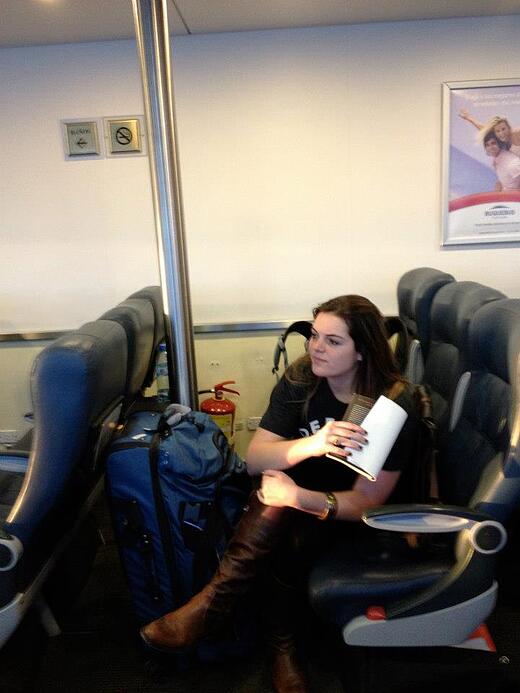 International TEFL Academy Advisor, Lauren Davis, on the road in South America
Helen: While travel within Argentina sounds quaint, try Ryan Air to fly from Madrid (Spain's capital), to Barcelona (it's beach capital), to Sevilla (it's cultural capital), or any big city in Europe (Paris?! Prague?! Rome?!) that you can imagine for a cost anywhere from 10 euros (approx. $11 USD) to 100 euros (approx. $110 USD) - #beatthatSouthwest.
Planes aren't your thing? How about a Euro Rail Pass or a bus ticket that would cost less than a weekend movie ticket- and we're talkin' dollars, not Euros.
Jeff: Lord knows I love a good glass of Malbec...but the temptation of sipping both Spanish and Portuguese wines from their motherlands for pennies in the same day makes the most sense.
This round goes to Spain!
Round 2: Authentic Cultural Experiences
Lauren: Ever hopped on a public bus with no idea where you're going and no English speaker in sight? Welcome to Buenos Aires! Subway strikes and Government shutdowns will keep you on your toes in Argentina. If you want a truly authentic experience abroad, less saturated with worldly tourists, head down South. Good luck finding a Burger King here, as "fast food" means asados (BBQs) lingering into the early hours of the morning. If you want a truly authentic experience unique to Buenos Aires check out this pop up musical show. Every Monday night La Bomba de Tiempo, an Argentine drum troupe, comes together for a fully improvised percussion heavy showdown in the middle of a warehouse. Sweltering nights and cervezas flowing like water always make this dance party a success.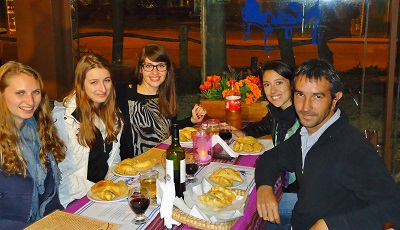 International TEFL Academy alumni out on the town in Buenos Aires, Argentina
Helen: Touche. I'll have you know I never saw a Burger King in Spain….although McDonalds did ring true to home. Come to Spain to see one of the oldest countries still in existence (ever heard of the Romans?). Spain boasts tapas recipes aging back to the days prior to Don Quixote, Picasso paintings and classic flamenco shows (although I could swear a couple of those castanets were plastic).
Also see some of the most famous artwork from all over the world in Madrid. Works by the great Spanish Masters such as Goya. El Greco and Velazquez can be found at El Prado, and more modern art (Dali ring a bell?) can be found at El Museo Reina Sofia.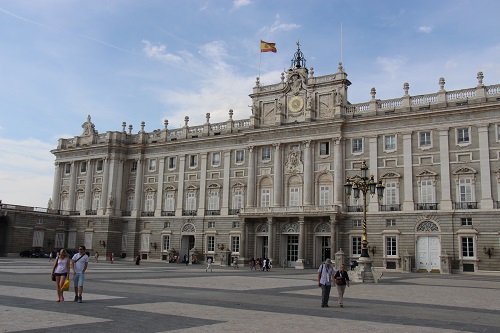 Spanish cities like Madrid are renowned for their rich cultural heritage and grand architectural monuments.
Jeff: Well, although you were both very strong contenders in this round, I have to point out that we can find plastic castanets in a McDonalds Happy Meal here in Illinois….this one goes to Argentina for the sheer fact that it has fewer T.G.I.F.'s per capita and La Bomba sounds like a party I need to attend.
The score is tied 1-1. On to round three….let's talk futbol…..
Round 3: Futbol!
Lauren: You've never seen a futbol match until you've spent a night watching the infamous Boca Juniors take on arch rival River Plate. Argentina is home to one of the world's classic futbol rivalries.
The facts speak for themselves...Argentina has won two World Cups and Spain, one. Also...hey Spain, ever heard of Lionel Messi? I'm sure you have, as he dominates Spanish futbol. I can never imagine where he's from. Google really quick and see what World Cup team he captains.
Helen: (Typing) no comment.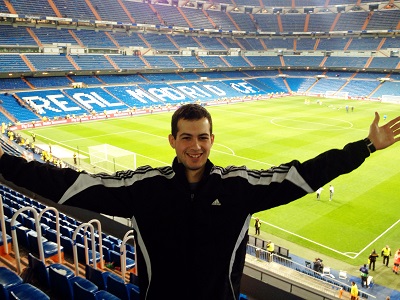 Futbol - as soccer is known in the Spanish-speaking world - is like religion in both Spain & Argentina.
Jeff: Spain and Argentina are two of the greatest nations in futbol, but Argentina has won two FIFA World Cups (1978 & 1986), while Spain has won "only" one (2010), and the greatest player in the world currently is Lionel Messi of Argentina (though he plays in Spain), so we're giving the nod here to Argentina.

Score update: Argentina 2, Spain 1.
Round 4: Best Food
Jeff: Alright alright calm down. You may have a better futbol team, but Argentina, but let's talk about the concession stands. What kind of grub can we find in Spain and Argentina?
Lauren: Street meat city, baby. What more could you want than pizza by the slice and hot dogs to go? #cardiacarrest
But if you want an avocado, head to Chile….
But if you want a steak...and only steak...stay put.
If you're looking to sit down, Cafe Tortoni is a staple to both tourists and locals alike. Located on the international recognized Avenida de Mayo, Tortoni has welcomed everyone from Jorge Luis Borges to Albert Einstein since it's opening in 1858.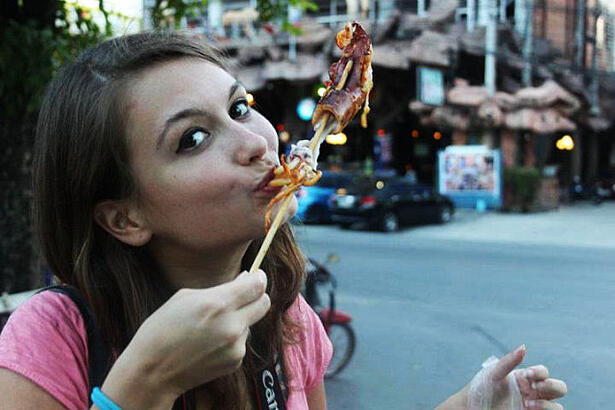 International TEFL Academy graduate, Lili Kocsis enjoys street-meat-on-a-stick along the boulevards of Buenos Aires.
Helen: Pause for laughter. Ummm...have you ever heard of tapas? Tortilla espanola ... croquetas….jamon serrano…. and if worse comes to worse, there is a Taco Bell in Madrid. Wanna have a cafe con leche with a pincho of tortilla espanola in the same place where Hemingway and his cronies would write, check out Cafe Gijon. If you are looking for a quick bite before a night out, you have to hit up El Tigre where it is harder to decide if the drinks or the free tapas are bigger. (Say hi to Manuel for me!)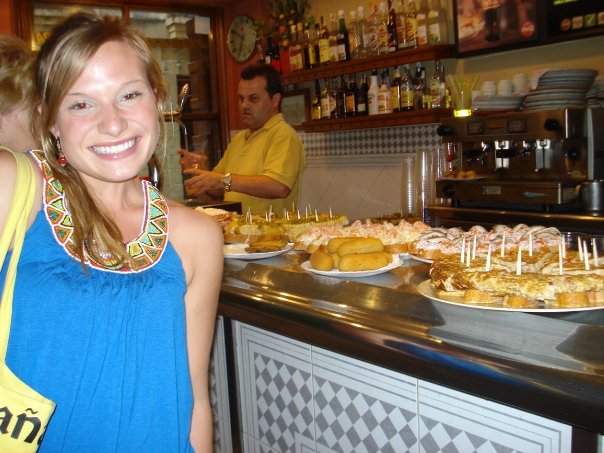 Spanish tapas may just be the best bar food in the world.
PS….In Spain, buy a drink, and tapas are free.
Jeff: Well...as long as there is the potential for free ham with my glass of sangria...this round goes to Spain.
Round 5: Job Markets for Teaching English
Jeff: The competition is tight...but the real question remains...where can I actually find a job teaching English abroad: Spain or Argentina (or both)?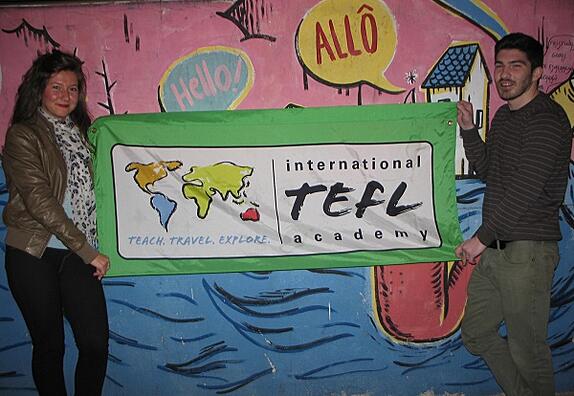 Lauren: Argentina is a true teachers' market. The demand is booming and only growing throughout the entire country. From private language schools to private tutoring, everyone is jumping on board to learn English. Business professionals are taking classes to put their best international foot forward, while students are looking to bolster their resumes by throwing in some English proficiency.
Want to work 3 days a week? Want to work 7 days a week? Employers in Argentina offer flexible work schedules shaped to your preferences. I worked Tuesday through Thursday and traveled almost every weekend- paid for by my teaching salary. Argentina is the ultimate teaching destination if you're looking for flexible work hours and plenty of time to take trips.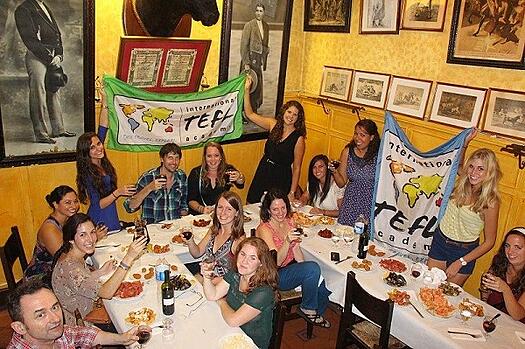 International TEFL Academy alumni gathered in Barcelona recently - will you be joining them?
Helen: Did you know that Spain attracts more than 60 million visitors a year? Do you know what language Spanish tourism is done in? English! There is a demand from the north to the south to the east to the west... from the Canaries to Ibiza for English language teachers. In Madrid, there are over 300 language schools, with 10 to 30 teachers at each school. Want to make your own schedule so you can make your own hours and have the flexibility to travel whenever you want? Work as a private tutor! Want to work a structured job at a public school? Check out the Spanish Government Teaching Program. Also, why not teach in Madrid for a while, then go to Barcelona, then Sevilla, then who knows! The demand is there, just get out there!


Jeff: Well ladies, that was a good, clean fight. You have laid out all the facts, and I have to call this match a tie!
Both countries seem like a great place to travel, live, eat, and teach English. That's all we have for tonight folks! Tune in again soon when the teaching markets of Taiwan goes head to head with China.
Helen and Lauren (in unison): I have something to say about that!
Jeff: I'm sure you do!
Want to learn more about teaching English in Spain, Argentina & 50 other countries around the world?
Request a free brochure or call 773-634-9900 to speak with an expert advisor about all aspects of teaching English around the world, including TEFL certification, the hiring process, salaries, visas and more.
Related Articles & Resources:
About the Authors: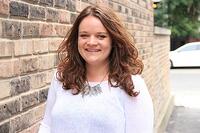 Helen Schenck: A western girl at heart, International TEFL Academy Admissions Advisor Helen grew up in Texas and New Mexico, and gained her love of travel on her first trip abroad to India. From there she knew she wanted to travel and see as many cultures as she could. Helen had the amazing opportunity of living and teaching in Madrid for a year. She traveled all over Europe, but her favorite places ended up being right in Spain. She continually works to improve her Spanish and is excitedly looking forward to a trip to Latin America in the near future.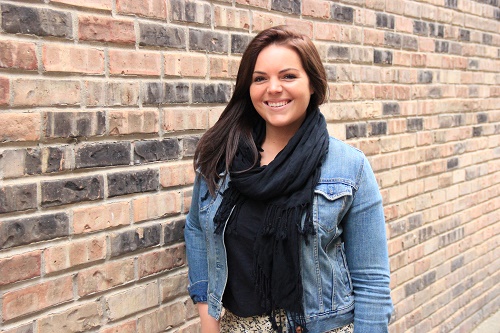 Lauren Davis: Lauren is from a one-stoplight town in southern Louisiana. After Hurricane Katrina, she moved to Colorado and completed her degree in International Affairs at the University of Colorado Boulder. Although she had backpacked Europe, Lauren wanted to really see more countries from a local's perspective! After graduation, Lauren packed a bag and traveled extensively throughout Asia before moving to Argentina. There she taught English for an international advertising agency to business professionals. During that year she created lifelong friendships with locals and travelers alike. Since 2012 Lauren has been helping wanderlust-filled travelers realize their dream of getting abroad.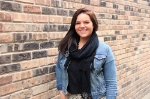 A native of a one-stoplight town in Louisiana, Lauren packed a bag after graduating from college and traveled extensively throughout Asia before moving to South America to teach English in Argentina. There, she taught primarily business professionals and took advantage of her free time to explore Latin America.
Want to Learn More About Teaching English Abroad?
Request a free brochure or call 773-634-9900 to speak with an expert advisor about all aspects of TEFL certification and teaching English abroad or online, including the hiring process, salaries, visas, TEFL class options, job placement assistance and more.