Oh, The People You Will Meet - Teaching English in Thailand
By: Stephan Stansfield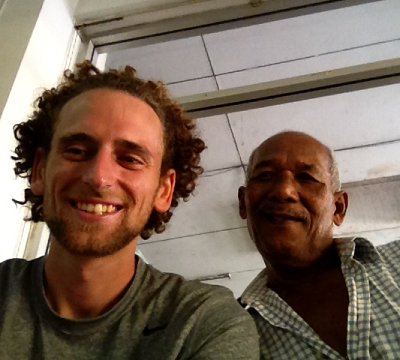 The relationships we share with people largely define our time on this planet. The best memories are rarely alone. People come and go, in and out of our life, like cars moving through an intersection, yet we are the stationary stoplights that hang above them.
Certain circumstances, like our jobs, provide red lights: moments that stop others and give us time to get acquainted. Other red light situations can be classrooms where we make lifelong friends, the gym, coffee shop, or even the occasional bar where we might meet our next boyfriend or girlfriend. Often these meetings arise out of the blue, and we don't know what the future holds for either party. Even if we never see the person again, the first meeting can teach us some very important lessons about life- if we pay attention.
When we do meet someone who we enjoy spending time with like a new friend or maybe that special someone, finding time to fit them into our hectic schedules is never easy. Reallocating our time comes at an opportunity cost; more time "here" is less time "there." Our work life and personal life are at odds with one another. Thus, we find ourselves stuck in a continual predicament of asking, "What is the best way to spend our time?"
It was this peculiar question that I set out to answer in 2011.
Two huge things happened this year: I met the perfect girl and I was hired as a corporate manager for a highly successful restaurant in my hometown. The excitement of both opportunities was overwhelming. Time flew by working long, tiring hours at the restaurant underneath my boss Randy - a man I deeply respected. He was the boss one dreamed of working for. He always made it a priority to show his appreciation for all the hard work employees did. He taught me to be grateful; he taught me to be better than I am. Great jobs should do this.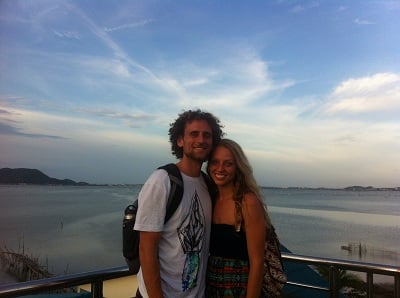 Sarah, my girlfriend, taught me the meaning of patience. She would wait for me to get off work and we would try our best to squeeze in some quality time. Work created a constant battle between loving my job and hating the lack of time I had for the girl I loved. Halfway through the year, I began thinking about the importance of certain relationships in my life. I weighted the time I was devoting to work with the time I was missing with Sarah. Would we ever have time together?
By the end of 2011, my answer came. My boss was relocated to another area. His replacement turned out to be extremely disrespectful. He didn't care to speak to people as individuals. From him, I learned the importance of self-respect. Over time, our work relationship collapsed. Inconsiderate and unappreciative people do not deserve our time and energy, so I quit.
This turned out to be the best decision I ever made.
First, I had to look for a new job. I had wanted to travel overseas since high school but never had the courage. A friend of mine had been teaching ESL (English as a Second Language) in Thailand for two years. We talked frequently over the years and she convinced me to get TEFL certified. With a TEFL certification, I could work in Asia, Europe, Africa, or South America.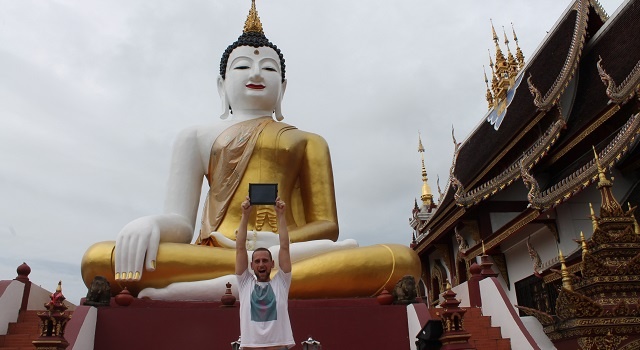 I began researching online and found International TEFL Academy. They looked like the perfect choice and after a quick email, their advisor Ian set up an immediate interview. During the phone interview, we talked about the benefits of teaching English abroad and how couples often get certified together and find work together overseas. I was sold. Ian was extremely respectful and informative. He had previously traveled through Southeast Asia and shared his stories of adventure with us. When he finished, I knew that I was headed on an amazing path. The best part was Ian helped Sarah and I decide on the best method to get certified. We decided to take the Online TEFL course because of the flexibility of the program. We could get certified from our couch.
After completing the course and sending a few job applications, I immediately got a job offer in Thailand. Honestly, within one week I was offered four different positions. I learned getting a job overseas is easier than you think. Sarah and I were hired by the same teaching agency and we arrived in Thailand one week before my 25th birthday.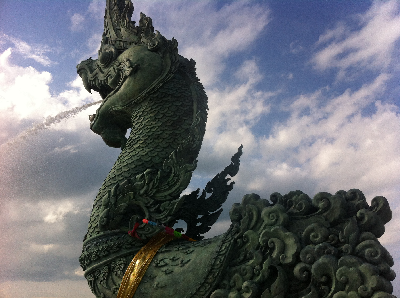 On my second day in Thailand, I met the kindest man I have ever met. He would teach me the power of being gentle-hearted. For breakfast, a group of new teachers, Sarah, and I went out to eat at a local Thai pancake house. During my last bite of banana pancake, an old man walked up to our table. He was missing most of his front teeth, but still managed to crack a big smile. His name was Abdul and he was from Malaysia. He started pleasantly conversing with the entire table. Then, he bought everyone's breakfast and arranged a local tour for us. The teachers agreed to go and we set out on a day filled with adventure exploring the surrounding beaches of Songkhla- home to the famous golden mermaid statue, and Dragon Beach- home to a marvelous serpent water fountain that spits a mist of cold and salty ocean water.
Next, we visited a mammoth-sized, nine-leveled waterfall. By the end of the night, our driver stopped at one of the local fishing villages where we explored for awhile before heading home. The finale was enjoying a breathtaking sunset from the top of an overpass overlooking the marsh of a small fishing village. The day's adventure ended safely back home around 7PM in the city where it had started.
A week later, I began teaching at a famous school in southern Thailand. Meeting all my Thai students and co-workers was mind-boggling. Trying to remember everyone's name was a great lesson in humility. In Thailand, western teachers are highly respected. Students greet their teachers in the beginning of class and thank them at the end. I greet my students in a similar fashion and I also thank them at the end of class. Not all the Thai teachers do this, but I do. Educating my students is therapeutic. Sometimes, I wonder if they have taught me more than I have taught them.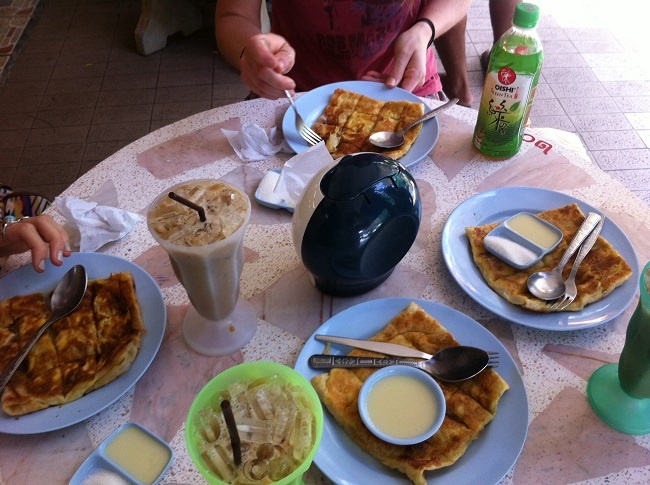 For our semester break, Sarah and I traveled to Lombok, Indonesia. I met two influential people in Lombok who would continue to change my views of the world. The first was a young Sasak woman named Kania. She had a beautiful two-year old daughter named Kia. She sold handmade sarongs and gasoline- an odd combination, but one she hoped could support her daughter's education. One morning, I stopped to refill my motorbike. Kania welcomed me to the town and invited me for coffee on the following day. The next day I visited her. She made me a cup of local coffee and we talked the majority of the morning. We discussed the island's history and our own pasts. Kania never had the opportunity to go to school. Public schools are expensive in Lombok and her family could not afford the luxury of education. She wanted her daughter's future to be more prosperous than her own. While we talked, she taught Kia the English alphabet on a magnetic eraser board- the kind we all had as children. I was amazed at how hard Kania worked, yet remained so friendly.
The second person that I met was Adi. Like Kania, he too invited me to drink coffee with him. We spoke about life, tourism, and business. One evening, Adi asked me to help him design an English menu on the computer. His boss was building a restaurant nearby and he put Adi in charge of designing the menu. Sadly, Adi could barely use a computer. I helped him with his menu design and demonstrated how to use Microsoft Word. Afterwards, we sat outside and talked for hours. Adi couldn't have been more gracious.

My time abroad has taught me that we have been given a unique gift. We are so lucky to speak English. Other cultures are being forced to learn a language we were born into. Our good fortune has opened the doors to amazing opportunities: we can teach others English. English is something we grow up studying and using, forgetting to appreciate it as one of our greatest gifts.
Language is a tool that allows us to communicate with each other. Effective communication creates understanding and allows us to create meaningful relationships. And nothing is more important than meaningful relationships! Our family and friends are the cornerstones of our life. These people have an amazing ability to show us the direction we seek. They will teach us the secrets of life if we pay attention, listen carefully, and give them the time of day.
Stephan Stansfield is 25 years old from Wilmington, NC where he lived for 8 years before quitting his job as an Assistant General Manager and moving overseas. He is a writer, researcher, and ESL teacher. He is passionate about unlocking human potential.
Want to learn more about Stephan's experiences teaching English in Thailand? Check out:
Check out his blog at: www.peregrinepoise.com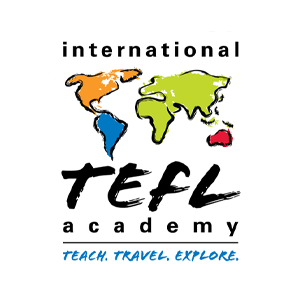 Founded in 2010, International TEFL Academy is a world leader in TEFL certification for teaching English abroad & teaching English online. ITA offers accredited TEFL certification classes online & in 25 locations worldwide and has received multiple awards & widespread recognition as one of the best TEFL schools in the world. ITA provides all students and graduates with lifetime job search guidance. ITA has certified more than 25,000 English teachers and our graduates are currently teaching in 80 countries worldwide.
Want to Learn More About Teaching English Abroad?
Request a free brochure or call 773-634-9900 to speak with an expert advisor about all aspects of TEFL certification and teaching English abroad or online, including the hiring process, salaries, visas, TEFL class options, job placement assistance and more.