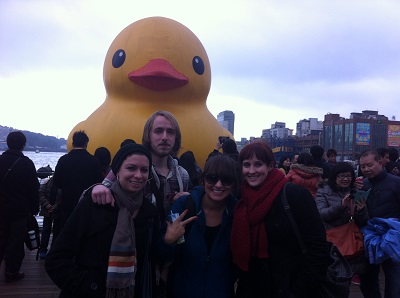 Lost and Found: Teaching English in Taiwan
By: Diane Mitchell
I had the best job. By now I had been on the small island of Guam for 6 years working various jobs in the hospitality and service industry, but never fully utilizing the degree in tourism I had hoped would open so many unique doors. That was all behind me, or shall I say below me? I was a flight attendant.
In the short lived year of the Guam based airline, my flights and layovers took me to Japan, Palau, Hong Kong, Saipan, and Taiwan. When it all ended, I felt lost and terrified of the future. I was 29 feeling like I was at a crossroads and needed to do something drastic. The scariest thing I could think of was teaching English abroad so that is exactly what I did. Within a month of completing my online TEFL certification with International TEFL Academy from my home in Guam, I had an offer at a small cram school in Taipei, Taiwan.

The experience was more life-changing than I ever dreamed. The social networks I built, the learning curve of being a first time teacher and working with kids, the places I traveled, and the daily challenges of getting by in a foreign country, added up to a lifetime of experiences crammed into a year. As my 12 month contract came to a close, I made the difficult decision to leave Taiwan. I had been living outside of the states for seven years and had not visited home in over two. It was time to leave Asia behind and reconnect with my family and friends in Chicago.

With the low cost of housing, food, and public transportation, combined with a competitive wage, I had been able to save a substantial amount during my year in Taiwan. I had also developed a severe case of the wanderlust lifestyle. Anxious to return home, but still wanting to exercise my new found freedom, I hatched a plan to check off a few items on my travel bucket list before returning to Chicago. On March 1st 2014, I said my goodbyes to Taiwan, and by June, I was leaving Guam to head back to Asia for a 3 month long backpacking adventure with my boyfriend.


I had dabbled in backpacking Southeast Asia before, from 4 days to 4 weeks, but the daily survival skills I learned in Taiwan now made me feel unstoppable. I could navigate any bus, train, subway or ferry system regardless of what language the signs were in. With a vague map and a compass, I could get lost and found in any major city. I could seek out a meal in even the most foreigner-unfriendly small towns. I could make friends with locals and fellow travelers anywhere I went to find the best places to see and things to do. I could find a cheap place to stay and Wi-Fi in the most unlikely of places. I had become a master of any and all resources available.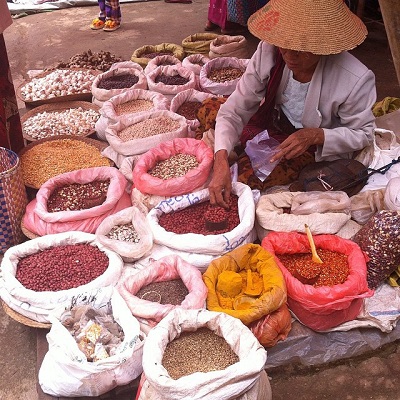 The biggest change was that there was no more fear of the unknown. I had faced it every day in the classroom and in daily life during my year teaching until I could laugh in its face. I felt calm and capable of handling anything that could possibly come my way including situations I had never encountered before.
Teaching ESL and living in a foreign country taught me to be adaptable, flexible, and resourceful in ways I had never imagined I could be.

My 3 month trip grew into almost 5 (time flies when you are sipping Thai iced teas in a hammock on the beach). My new found confidence took me hiking an active volcano in the Philippines; motor-biking the countryside in Laos; zip lining several kilometers in Thailand; meandering through remote villages in Myanmar; riding camels into the desert in India; and trekking the foothills of the Himalayas in Nepal. But the biggest challenge was awaiting me in America.
Upon returning to the U.S. after past travels, I experienced culture shock. It's funny how 5 months of immersion in new cultures will take the shock right out of almost any cultural encounter. My transition back to American living was a surprisingly easy one. I spent the holidays with family and am currently in the job hunting process. The task seems daunting, but I have new found confidence. My certificate from International TEFL Academy and teaching experience abroad have given me a career path to fall back on. The skills I learned teaching abroad are countless and invaluable.
Although I will not be seeking teaching jobs in America, these skills are transferable. Patience and understanding of different life choices and ways of thinking, flexibility in completing tasks, public speaking, working with diverse groups, a positive outlook, and best of all, an attitude of non-failure, are just a few. Not to mention, I am a charades and Pictionary champion thanks to my ESL students.


Some may say a 5 month employment gap will be a setback. I look at it as an accomplishment, not an embarrassment and have found my travels intrigue potential employers, making me a memorable candidate. I don't know what the future holds, but go forth with confidence, excited to see the adventure that unfolds.


Diane is a 31 year old University of Illinois graduate from the Chicago area. She lived and worked in Guam, USA for 7 years before finally taking the plunge in Taiwan as an English teacher.
Read more about Megan's adventure in Taiwan in:
Taipei, Taiwan English Teaching Q&A with Diane Mitchell
Founded in 2010, International TEFL Academy is a world leader in TEFL certification for teaching English abroad & teaching English online. ITA offers accredited TEFL certification classes online & in 25 locations worldwide and has received multiple awards & widespread recognition as one of the best TEFL schools in the world. ITA provides all students and graduates with lifetime job search guidance. ITA has certified more than 25,000 English teachers and our graduates are currently teaching in 80 countries worldwide.
Want to Learn More About Teaching English Abroad?
Request a free brochure or call 773-634-9900 to speak with an expert advisor about all aspects of TEFL certification and teaching English abroad or online, including the hiring process, salaries, visas, TEFL class options, job placement assistance and more.