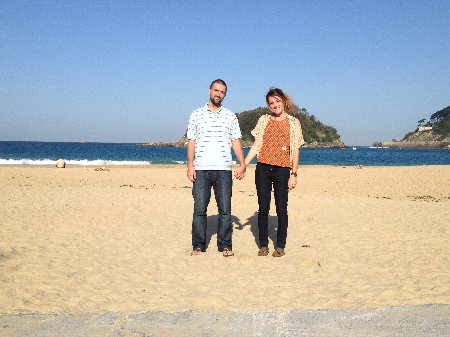 Two ITA alumni make their European dreams a reality
By Dustin Burgin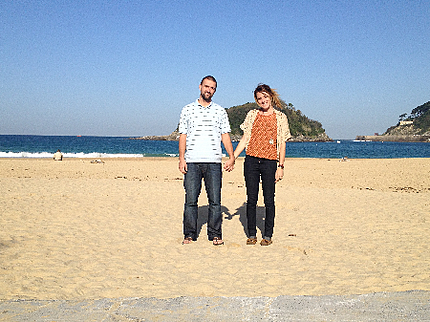 Have you ever been on a first date that went really well?
So well, that you promised each other that one day you would backpack Europe together, and meant it?
I have.
That amazing girl is now my wife and more than four years after we made that promise, we are living in Spain as English teachers, and this summer we have plans to explore the rest of Europe.
It wasn't always a sure thing that we would make it here. In fact, six months ago we were wondering if we would ever be able to fulfill that dream of ours.
After finishing my business degree in Utah, we moved down to Arizona where I got a job as a commercial broker. The real estate market was finally rebounding, but the first few years as a broker can be quite difficult. I figured it would take 3-5 years of hard work and dedication to become successful. That meant 3-5 more years of not backpacking Europe.
Life's too short to be spent behind a desk, I thought to myself one scorching hot afternoon. Life's too short to not go after your dreams. My dreams were to live in another country, experience a new culture with everything it has to offer from the landscapes and architecture to the language and food. And visiting for a short time just isn't enough, especially with the cost of flights to Europe. To fully experience a new culture I wanted to live it. We have all heard of someone going somewhere for a year to teach English. Why couldn't we do that? If I really want to do commercial real estate, it will still be here when we get back.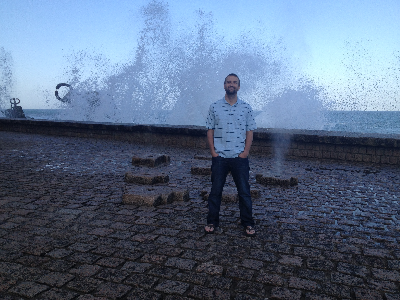 Having never fully considered the possibility before, I started doing some research on the Internet of what it would take. I learned that most language academies require an international teaching certification. I found the biggest and most credible names in the industry and sent out several inquiries. To my surprise, I received a phone call shortly after from a girl named Lindsay from the International TEFL Academy. I remember her name well for that was the first of many conversations I was to have with her in the weeks to follow.
She asked a lot of good questions about who I was and what I wanted out of the experience. With that information, she was able to point me in the right direction. She was incredibly knowledgeable and very helpful, not to mention reliable. Every time I thought of a new question, I would call Lindsay up, and if she was unavailable, she was sure to call me back as soon as she could. Besides teaching me about what countries would be the best, how much I should expect to spend and make, what the local visa situation is and how to get a job, she made the dream of living abroad not only seem real, but also easier than I had anticipated.
When I arrived home the evening after my initial conversation with Lindsay, I immediately told my wife about everything I had learned. As wonderful as it sounded, she of course had her apprehensions. I told her not to worry, that I would have Lindsay give her a call and she would answer all her questions. She did just that. After speaking with Lindsay and having all of her issues resolved, my wife was as excited as I was. We signed up for the online TEFL course, put our house up for sale, quit our jobs and bought two plane tickets to Spain for the week the course would finish, and we have never looked back.
It was about three months from that time to the end of the course and our arrival in Barcelona. We had decided on teaching English in Barcelona after Lindsay informed us that Spain had the biggest demand for English teachers in Europe and it would be the best choice if that is where we wanted to go. I didn't know Spanish, so I spent those three months studying it the best I could. During my studies, I came across a video of a teacher in Spain comparing the difference between Barcelona and San Sebastian, a smaller coastal town in the mountainous region of Northern Spain by the border of France. The way she described it made it sound absolutely charming and after doing more research and seeing pictures, I knew that was where we needed to go.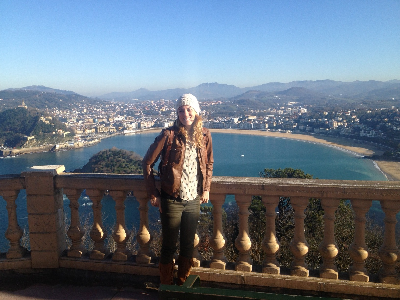 Choosing a smaller city meant significantly lowering our chances of getting jobs, as the academies would be few. With a degree in Entrepreneurship and a stubborn spirit that longed for autonomy, I felt more comfortable paving my own way as a freelancer than an employee anyway. However, this added to an already very long list of "unknowns" that we would need to figure out upon arrival.
We took advantage of our time in Barcelona to do some sightseeing for a few days before taking the four-hour train ride to our final destination of San Sebastian. We got off the train with no plan nor place to stay. We had sent out a few "couch requests" on couchsurfing.org, and luckily at the last minute we received an unexpected invite from a fellow surfer named Nacho, who, after reading our profile and realizing we had hosted others but never surfed ourselves, felt it the right thing to do to lend a hand, and a couch. Actually, he let us stay in his own bed while he slept on the floor. Nacho was a lifesaver. We spent a few days with him until we got a few things sorted out. He not only gave us a proper welcome to this beautiful city, but also helped us take care of some of those important unknowns on our to-do list, like get a local phone and find a place to live.
We ended up renting a room in a shared apartment in the heart of the city, which, during the summer months, is turned into a hostel. We had a flyer made up and went about the city posting on poles and poster boards on every block. We even put an ad in the local newspaper. Calls started to trickle in and I did the best I could answering them with my beginner level Spanish. We had the most success with those who could speak at least a little English, and slowly we have built up a decent sized clientele. Now we have students of all ages and levels, from 8-78 and complete beginner to fluent.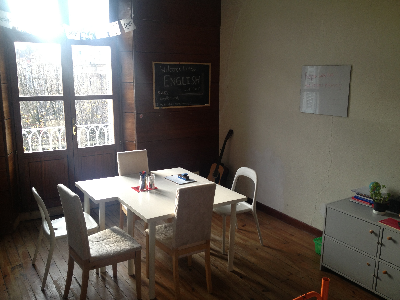 Since we live in the center of the city and the room we rented was just large enough to fit a couple small tables and chairs in one corner, we decided to give classes there. We appropriately named it "The English Corner". Although not always easy, it has been an incredible experience and we both have discovered that we love teaching. My wife teaches beginners, children and conversation class, while I focus more on test preparation and grammar. In fact, we love it so much, I'm thinking of starting an academy and staying here long term.
Whatever your dream is, I suggest not putting it off any longer. Life is too short and there really is no reason big enough to delay that which would truly make you happy.
If those dreams include teaching English in a foreign country, call the International TEFL Academy. They are very knowledgeable and will answer all of your questions and concerns. They will put you on the path from which you will never look back.
Thank you International TEFL Academy!
Dustin Burgin is a 27 year old English teacher in San Sebastian Spain. He graduated from the University of Utah with a degree in Business Entrepreneurship, and spent 1 year in Arizona working in commercial real estate before abandoning his boring desk job for an exciting adventure as an English teacher.


Founded in 2010, International TEFL Academy is a world leader in TEFL certification for teaching English abroad & teaching English online. ITA offers accredited TEFL certification classes online & in 25 locations worldwide and has received multiple awards & widespread recognition as one of the best TEFL schools in the world. ITA provides all students and graduates with lifetime job search guidance. ITA has certified more than 25,000 English teachers and our graduates are currently teaching in 80 countries worldwide.
Want to Learn More About Teaching English Abroad?
Request a free brochure or call 773-634-9900 to speak with an expert advisor about all aspects of TEFL certification and teaching English abroad or online, including the hiring process, salaries, visas, TEFL class options, job placement assistance and more.