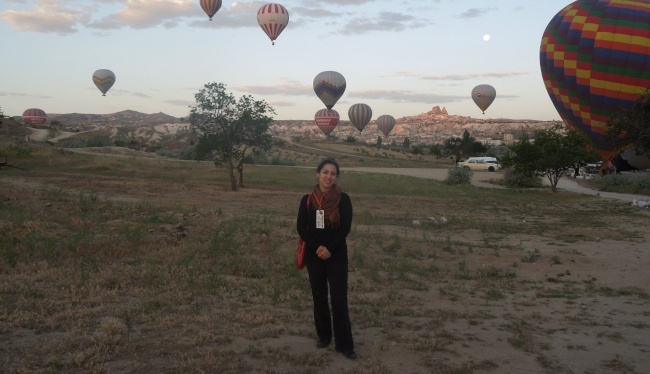 How to Make Sure Teaching English Abroad is a Resume-Worthy Experience
By: Pouneh Eftekhari
When I was graduating from college, I had two study abroad experiences under my belt and a full-blown addiction to travel. All I wanted to do was buy a one-way ticket abroad and never come home. I only knew of two options to do so--teach English abroad and join the Peace Corps--but neither option seemed to get the approval of my parents. So I didn't do either.
Instead, I appeased everyone and went to grad school...but I did it under my terms: in Europe! After two years of grad school and a short stint working full time abroad, I ended up back home...suppressing the travel bug by 'getting a real job' and 'settling down'. Not long after I got married, my husband and I knew we needed an international adventure, but felt at a loss for how to make it happen. I threw out the idea of teaching English abroad, but neither of us took it very seriously.
Unfortunately, like many others, we held a prejudice that it wasn't a 'real job' and that it was only for 'recent college graduates who don't want to get a real job'.
We tabled the idea until we couldn't any longer.
In November of 2013, we were desperate to get out of dodge and begin searching for options. We stumbled upon International TEFL Academy, and while convinced that they could help us find jobs, we still weren't sure how to justify it since we'd spent years launching and growing our careers in the US.

After reflecting on our personal, professional and financial aspirations, we came up with a list of goals or standards we had. If we were going to take the leap, we needed to find an opportunity that would enhance our lives and allow us to return home more marketable than when we left.
Here are a few of the things we discussed with each other, family and friends, before making the decision:


How will teaching English be viewed by hiring managers in our respective fields

What skills/knowledge can we learn through teaching English abroad that we can't learn at home?

How can we utilize our free time to further improve our professional profile? What opportunities will be available to us locally (i.e., language classes, international chapter of a professional association, etc.)? What opportunities will we have to create for ourselves (i.e., self-study, networking, etc.)?

What challenges--mentally, physically, emotionally, etc.--do we anticipate and how will we manage them?

How will this decision impact our financial situation in the short-term? in the long-term?
These are just a few questions we answered before we began looking for an employer. By understanding exactly what we wanted to get out of the experience, we had a much easier time evaluating the hundreds of job opportunities out there.
The questions above were specific to us and our concerns, but may be applicable to you as well. Having answers to these (and other) questions before going abroad will help manage your expectations, maximize your time abroad and help you set goals for the duration of your employment contract. Upon return, you'll want to take stock of the new skills you've developed while abroad, and translate them into clear and concise bullet points on your resume; write down any experiences that could be used in interviews; and perfect the art of storytelling.
No matter how hesitant you feel about teaching English abroad, remember that with proper planning and a lot of research (and many, many conversations with the amazing staff at ITA), you will absolutely be able to find the best opportunity for yourself, which will ultimately help you get to the next level in your career.
As Founder of Longing to Travel, Pouneh leverages over a decade of professional global experiences to help career-minded travel addicts design short and long-term travel plans geared towards professional growth and development. When she's not working, Pouneh enjoys admiring architecture, eating local cuisines and spending time with inspired people.

Current Home: Sweden
Connect with Pouneh on Twitter, Facebook and Instagram.
For more on Pouneh's experience in Turkey, check out her other ITA publications:
Founded in 2010, International TEFL Academy is a world leader in TEFL certification for teaching English abroad & teaching English online. ITA offers accredited TEFL certification classes online & in 25 locations worldwide and has received multiple awards & widespread recognition as one of the best TEFL schools in the world. ITA provides all students and graduates with lifetime job search guidance. ITA has certified more than 25,000 English teachers and our graduates are currently teaching in 80 countries worldwide.
Want to Learn More About Teaching English Abroad?
Request a free brochure or call 773-634-9900 to speak with an expert advisor about all aspects of TEFL certification and teaching English abroad or online, including the hiring process, salaries, visas, TEFL class options, job placement assistance and more.