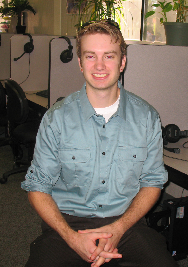 Finding a Sense of Accomplishment - Teaching English Abroad
By: Joshua Zink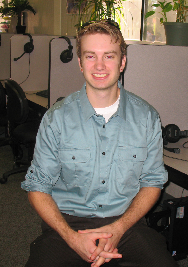 High school was not a time of glorious success for me. I had the muscle tone of a filleted fish and all the confidence of a groundhog on a sunny winter's day. The one thing I did have confidence in though was my artistic ability. By sophomore year I knew I wanted to go to art school, and I figured if I went to a great school then that would lead to an excellent job. So I did all the necessary extra-curriculars, and in my senior year of high school I was offered a scholarship to attend the Kansas City Art Institute. I figured Kansas City was far enough away from my small hometown in California that I would never get sucked back in by its gravitational pull. After all, the only people who came back were couples looking to start a family and burnouts.
But in my sophomore year of college, the economy collapsed and the employment rate of recent graduates was free falling. Also, in high school I was positive I wanted to be an animator and work for Disney or Pixar but after two years in the animation program I found that the process of animating was too tedious for me. I realized what really attracted me to animation in the first place was the storytelling aspect of it. I signed up for a creative writing class, loved it, and decided I would major in creative writing instead. Unfortunately the Art Institute only allowed students to double major or major-minor in creative writing so I decided to double major. By my senior year I was stressed out of my mind and my brain felt like how I imagine two particles smashing together in a proton accelerator would feel. I ended up barely graduating from the animation program and by that time I was done living in Kansas City for a while.
I decided to move back home while I looked for a job. I spent eight months looking for entry-level positions at any animation or publishing company with no luck. Eventually I was forced to settle for a pride-killing job at a local pizza parlor. Some days were more awesome than others, especially when high school kids who couldn't tell the difference between Edouard Manet and Claude Monet, said I was dumb (a much less offensive euphemism) because I couldn't make pizzas fast enough. After a very short amount of time working at the pizza parlor, I became extremely desperate to get out and travel.
I seriously considered joining the army because I thought it would be a quick and easy way to see the world. I even took the armed forces aptitude test, but I quickly realized that I wouldn't handle someone barking orders at me very well. I looked up other options that would allow me to travel all over the world and remembered I had talked to my college counselor about teaching English abroad. At that time they didn't have any information on the subject so I didn't pursue it any further. The one good thing about having a terrible job is that it can be a great source of motivation, so I took up the initiative and looked into teaching abroad when I wasn't working. I found that many countries required a bachelor's degree and a TEFL/TESOL certificate (Teach English as a Foreign Language & Teaching English to Speakers of Other Languages). I Googled TEFL certificate programs and found a website that rated a large handful of them. The International TEFL Academy was at the top of their list.
I went to the ITA website and saw that they offered an online course which was perfect for me since I didn't have any money to move to a major city and I couldn't afford to stop working in order to attend daily classes. I sent an email to ITA and quickly got a response from John Bentley an advisor who answered all of the questions I had about the online TEFL course and teaching abroad. He also came up with a payment plan for me that was conducive to my minimum wage budget. I learned so much through the course including what to expect at each learning level and how to create a lesson plan—which was one of the most challenging and informative lessons of the course. There was also a twenty-hour practicum requirement.
I chose to fulfill my requirement by volunteering as an ESL teacher's aide at a community college. I had such a great time working with the professor and the students that I ended up staying for a whole semester. By the end of the semester I had some real ESL teaching experience under my belt and a great letter of recommendation from the ESL department head at the college.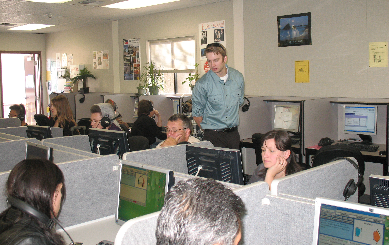 When I was finally ready to apply for jobs overseas, the Student Affairs Department at ITA sent me a huge information packet with profiles on many different countries. They were also always available to answer any questions I had. The Student Affairs Department alone is worth every penny I paid for the ITA TEFL course. After reading the packet I decided I wanted to teach in South Korea so I applied to a handful of recruiters. I quickly got a response from a couple of them and now I have an interview with a great and well-established English school in South Korea.
I definitely recommend getting a TEFL certificate but I would suggest taking a classroom version of the TEFL course (which ITA offers at many locations all over the world!) because I've found that some schools have a stigma against online certificates. That being said, I'm still extremely satisfied with the online TEFL course (it is cheaper and more accommodating for people who have to work) and all the support I have had, and continue to receive, from the International TEFL Academy. Getting my TEFL certificate through International TEFL Academy has been one of the best choices I've ever made. I feel successful and confident in my future prospects for the first time in a long time and I say that with absolute sincerity and gratitude.
Editors note: In regards to the comment about Online TEFL classes having a stigma, this is true in some cases as employers have found that many of the other online classes do not meet the international standards of academics (100 hours of coursework), student teaching (6 hours) and accreditation by an external moderator. This is also the case of in person classes that fall short in these areas.


Joshua Zink is from Nevada City, California. He is 24 years old and graduated from the Kansas City Art Institute with a double major in creative writing and Animation. Ever since studying abroad in Paris, France in college, he has had an insatiable desire to travel and see the world.

Related articles:
Founded in 2010, International TEFL Academy is a world leader in TEFL certification for teaching English abroad & teaching English online. ITA offers accredited TEFL certification classes online & in 25 locations worldwide and has received multiple awards & widespread recognition as one of the best TEFL schools in the world. ITA provides all students and graduates with lifetime job search guidance. ITA has certified more than 25,000 English teachers and our graduates are currently teaching in 80 countries worldwide.
Want to Learn More About Teaching English Abroad?
Request a free brochure or call 773-634-9900 to speak with an expert advisor about all aspects of TEFL certification and teaching English abroad or online, including the hiring process, salaries, visas, TEFL class options, job placement assistance and more.