A Week In the Life of a Student in the Puerto Vallarta TEFL Class
Written by: Lynda Galea
Last Updated: November 11, 2019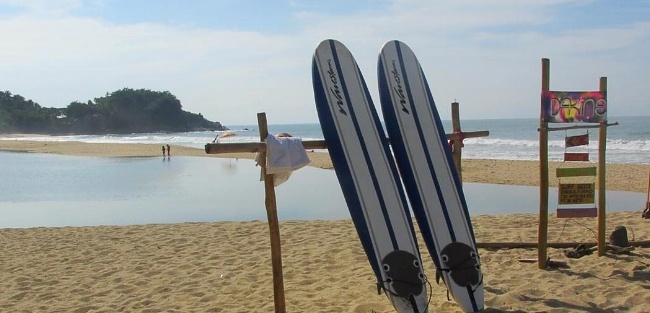 International TEFL Academy is proud to offer a world-class 4-week Puerto Vallarta TEFL Course at our partner TEFL school's headquarters located in Puerto Vallarta, Mexico. Employing a state-of-the-art curriculum and taught by expert university-level instructors, this course is designed to provide you with the skills & qualification you need to succeed in teaching English abroad. This course is fun and you will learn a ton, but it is also very demanding and requires that you be prepared to meet the full-time demands of a rigorous university-level course. To help you prepare for this course, we've put together a typical week in the life schedule to outline the daily grind and committment required.
Monday – Week 1
The first day of class is finally here! You are staying at the recommended accommodations nearby, so you wake up early enough to prepare your items for class which begins at 9 am. Through prior communication, you were able to locate the building and classroom, so you make your way to class. You are excited to meet fellow students and your instructor, and learn about their life experiences.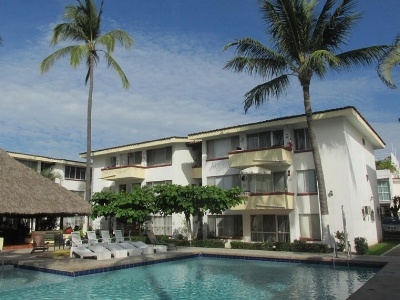 Once class starts, you begin introductions and icebreakers. You are one of twelve students in class from different areas of the world with varying backgrounds and experiences. Your instructor is passionate and outstanding, and has years of diverse experience; you can't wait to hear their stories specific to teaching English.
During class, you read (and even present a topic yourself!) about the methodology of the course, the Communicative Approach and the use of icebreakers. As a class, each student explains why they want to teach as well as their educational experience and where they came from. We share several similarities but have multiple differences as well. You pair up with the student next to you, and create your own ice breakers. This will come in handy for upcoming teaching practices!
We are each assigned teaching observations and grammar workshops to complete. The teaching observations will take place at a language center, in which we observe a teacher and their students for one hour. The grammar workshops entail a presentation of an English topic in front of the TEFL class with Communicative Activities. The first one begins tomorrow and I'm presenting! The topic is English Punctuation.
Once class finishes, I grab a quick lunch and immediately begin preparing my Grammar Workshop presentation for the next day. I must attend my first teaching observation early tomorrow morning, so it will be an early night. I was unsure of what to expect for today's class, but it was fun. It will be challenging work moving forward, but rewarding once the certification is complete!
Tuesday – Week 1
You had your first teaching observation and it was interesting to see an English class in full-swing. The class contained eight students who were being taught Present Continuous. The class contained note-taking, completing worksheets and they even had time for one Communicative Activity. You learned useful tips and tricks from the instructor and were able to gauge the students' interest. You are excited for your next observation, Wednesday at 6 pm.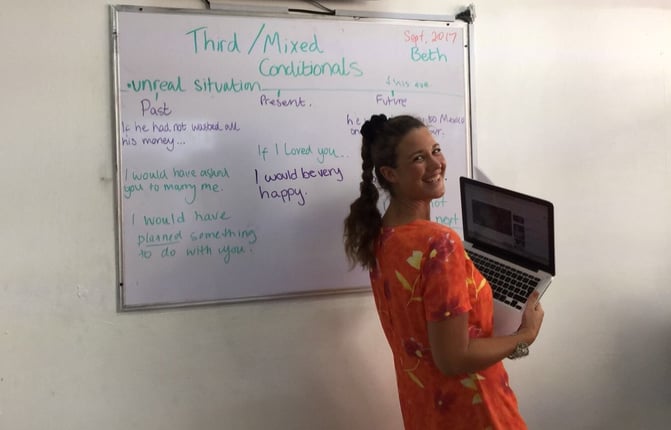 Now that class has begun, you immediately kick things off by giving your Grammar Workshop presentation on English punctuation. You studied the rules and created your own acronym to aid your fellow students. You concept-checked throughout the presentation and provided incentive (candy – who doesn't love candy?) to answer questions. Overall, it went very well! You are excited to get feedback from your instructor.
Today's class topics include how to teach grammar, teaching grammar with form and use, and how to properly concept-check. Several discussions take place, including whether to use translation tools, and as a class, we discuss how grammar was taught to us and create a list of common grammar mistakes we make ourselves and how to correct them. This is great insight to use with our future students, as concept-checking is vital.
Wednesday – Week 1
Halfway through the week! Today's class begins with a Grammar Workshop presentation from a fellow student. Watching and taking part in these activities assists in becoming an even better teacher. The collaboration and sharing of ideas is truly inspiring.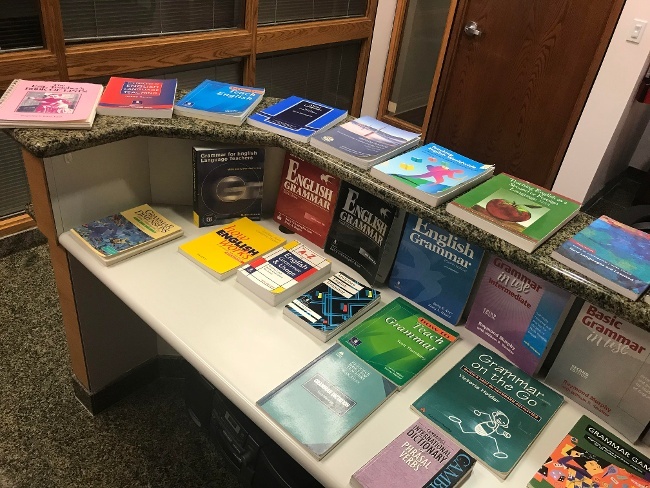 After the Grammar Workshop you learn about teaching vocabulary, pronunciation and intonation. Before, the distinction seemed only slight, but with further explanation each is their own separate entity and vital to teaching English. With a partner, you create vocabulary fields and spelling competitions. You also create a list of difficult sounds in the English language that your students may have issues with, and design activities for practice.
Tonight, you have your second teaching observation, this time with a different teacher and different set of students. These students are younger and it's interesting to see how they participate in class compared to the students from the other class. You learn games you can use for your classes in the future and begin to understand the importance of developing relationships with your students.
Thursday – Week 1
Thursday's class has arrived, and it is a heavy topic: lesson planning. Proper lesson planning affects classroom management and has a direct outcome to the success of your class. Once we complete the reading and short presentation, we begin our activity: to create a lesson plan based on something we know how to do. I choose how to boil an egg. Something as basic as boiling an egg has several steps which I explain and create activities around, and I also explain to my fellow classmates. Because we never take anything for granted, especially in teaching, the act of boiling an egg has gone from simple to matrix-level style thinking. It is an activity that has proved to me both the importance of taking nothing for granted, and making no assumptions.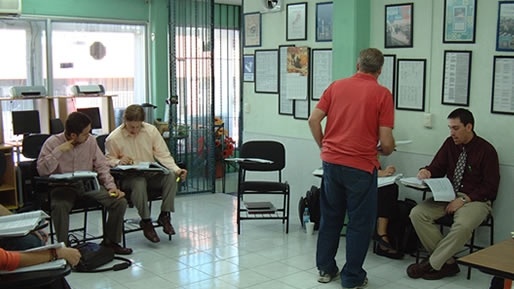 Friday – Week 1
Friday begins with another early morning teaching observation with a different teacher and students. After the observation, class begins. Today, we are covering error analysis and error correction. Our instructor shares past experiences regarding error correction and highlights the importance of proper execution. Our activity includes individually writing a short text with multiple errors, then listening as our classmates correct us. There is a danger in correcting your students as they may lose motivation or feel embarrassed in front of the rest of the class, and this activity is a pleasant reminder of that.
At the end of class, we are asked to complete a matrix containing our top five cities in which we would like to teach English, and five specifics about teaching we would like to have or avoid. I greatly want to stay in Mexico, specifically Puerto Vallarta, so completing the remaining matrix proves difficult. Luckily, I have the rest of the weekend to finish it.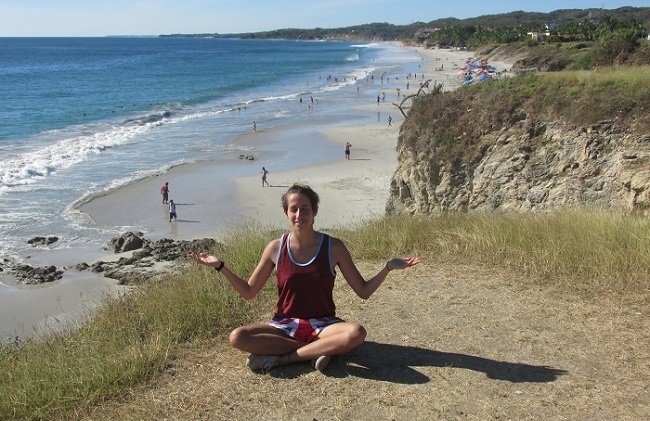 In addition to the matrix, we are assigned teaching practices for the following week. My first practice is at a local primary school, teaching second grade for one hour. The class begins at 1:20 pm and contains twenty students – certainly much different than the teaching observations at the language center. I do some preparation in class, as my lesson plan must be signed when completed, but I plan to do the remaining over the weekend.
Saturday – Week 1
On Saturday, we have our first excursion together as a group, and we are touring the city. It will be great to spend time with my fellow classmates outside of class and learn more about beautiful Puerto Vallarta in the process. I can't wait!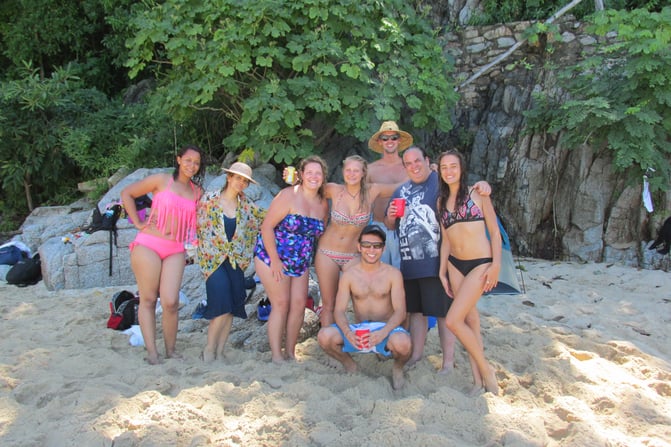 ---
Want to Learn More about TEFL Certification for Teaching English Abroad?
Your first step is to speak with expert advisor who will cover all of your options & questions. Contact International TEFL Academy now for a free brochure and to speak with an admissions advisor. You can also call us directly at 773-634-9900.
Related Resources: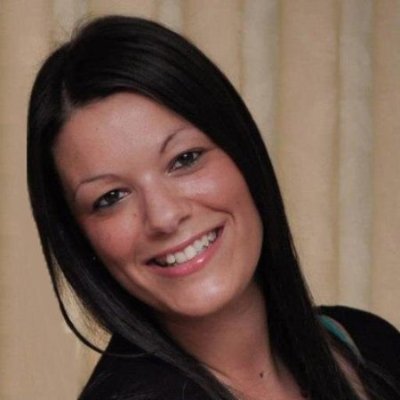 An accomplished traveler (she's visited 40 countries!), Lynda hails from Melbourne, Australia. Since she joined ITA in 2017, Lynda has become a primary expert on the field of teaching English online. Not only has she published numerous articles on the topic herself, but she has worked with International TEFL Academy alumni around the world to produce an entire library of information and content about teaching English online. Lynda also serves as a primary organizer of ITA's ground-breaking Teach Abroad Film Festival.
Want to Learn More About Teaching English Abroad?
Request a free brochure or call 773-634-9900 to speak with an expert advisor about all aspects of TEFL certification and teaching English abroad or online, including the hiring process, salaries, visas, TEFL class options, job placement assistance and more.