5 Reasons Why I Wanted to Teach English in Ho Chi Minh City, Vietnam
I chose to teach English in Ho Chi Minh City for a number of reasons. I first visited this lovely country back in 2014 on a trip to Hanoi, Mai Chau, and Ha Long Bay. While it was just a quick trip, I was completely entranced with the region and found it pretty easy to imagine myself living there within the next few months to a year.
I didn't quite make it to Vietnam as quickly as I'd imagined in my head, but I found myself at a crossroads three years later. My original predicament was whether to move to Taiwan or Hanoi; a wrench was thrown in the works when my then-boyfriend suggested we teach in Ho Chi Minh City instead. I wasn't exactly jumping with joy at the thought of living in Saigon long-term. For starters, I wasn't impressed by it during my backpacking trip; I thought all there was to it was the Bui Vien backpacker street and a handful of museums. I couldn't have been more wrong.
This city has more to it than I could have ever imagined and I've admittedly grown to become completely obsessed with it. Here are a few reasons I ultimately decided to teach in Ho Chi Minh City:
1. It's more modern than Hanoi
If you need to know anything about Vietnamese history, Saigon was always a bit ahead of its time in the entire Southeast Asia region. Despite the war taking its toll on the metropolis over the years, it currently stands as one of the world's most rapidly growing cities in terms of economics. Sure, there are crumbling roads and buildings in some parts of town. It's rare to go a day without seeing a cockroach or a rat hanging around, but I can't imagine my life anywhere else at this point in time.
2. The weather is better than Hanoi
I take the impact that weather can have on happiness pretty seriously, so this was one major factor as to why I chose to teach in Ho Chi Minh City. There are just two seasons in Saigon: hot and rainy. During the months of January - March, the heat is almost unbearable; it is even worse once it starts to become humid in April or May. Although this may not sound super ideal to some of you, Hanoi is a bit worse. There's actually a term for the month of March up north - moldy March - due to the constant rain and subsequent dampness. No thank you!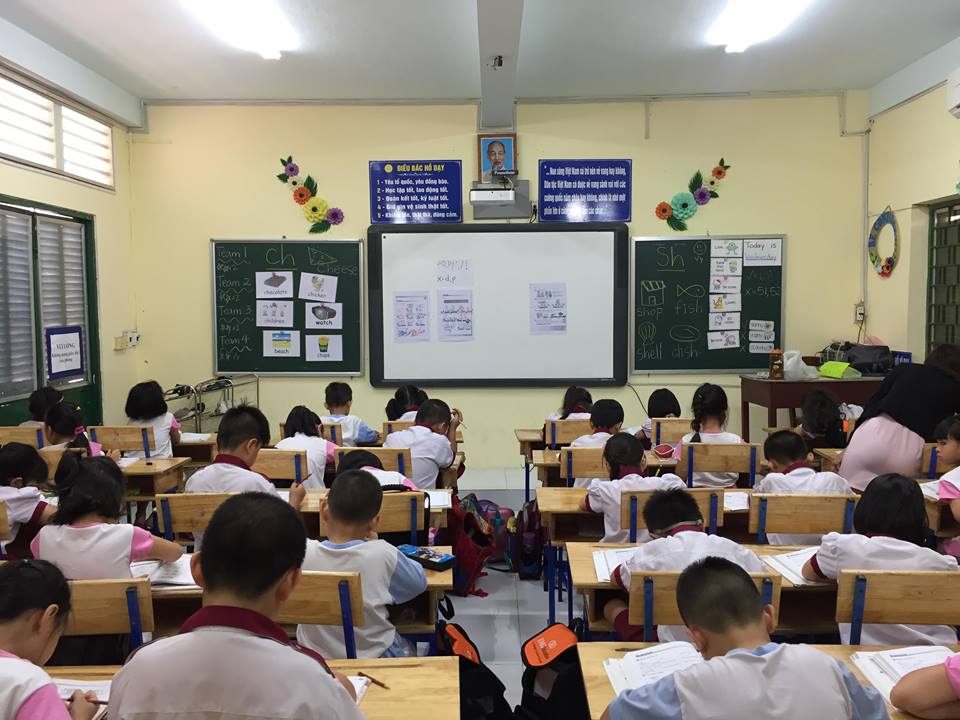 3. There are more parks
Although Hanoi may have the lush, green mountains, we have some gorgeous parks located right in the city. If you decide to teach in Ho Chi Minh City, you'll notice one of the strangest thing about this city is the fact you're not allowed to sit on the grass. I didn't know this prior to relocating, which was a major source of frustration seeing as I'd just arrived from the lush hills of New Zealand. Despite this odd rule, it is pretty nice to be able to drive or walk over to a nearby national park if needed.
4. The police presence in Hanoi is overbearing
Without getting into too much detail, the north definitely is more restrictive when it comes to lifestyle. [Almost all] bars and restaurants have mandatory curfews and there are just a lot of police patrolling Hanoi in general. I feel more comfortable with the fact that I chose to teach in Ho Chi Minh City for this reason alone.
5. The money is great
I'm sure you've read on the internet that the money in Hanoi is much better than down south. While this may be true in some capacity, I seemed to have lucked out with my current gig. To be honest, if you're wanting to teach in Ho Chi Minh City more so than Hanoi but money is the only thing holding you back, I wouldn't worry about it!
Despite the fact I love Hanoi and at one point was determined to make it my temporary home, I think everyone interested in getting TEFL certified should at least consider what it would be like to teach in Ho Chi Minh City - you won't regret it, I promise.

More Vietnam Info:

Laura is a Pittsburgh, Pennsylvania native who recently moved back to Chicago after teaching English abroad for nearly six years in both South Korea and Vietnam. During her time abroad, Laura served as an ITA Ambassador providing a wealth of knowledge and content to our alumni and prospective students. A natural helper and leader, she's currently in the process of earning her Masters in Counseling Psychology.
Want to Learn More About Teaching English Abroad?
Request a free brochure or call 773-634-9900 to speak with an expert advisor about all aspects of TEFL certification and teaching English abroad or online, including the hiring process, salaries, visas, TEFL class options, job placement assistance and more.