10 Great Places You Must See While Teaching English in Chile
Thinking about teaching English abroad?
Want to discover the fantastic cultural, historical and natural offerings of Latin America while getting paid?
Do you want to live in a dynamic, cosmopolitan city offering world-class cuisine, nightlife and architecture?
Boasting one of the top job markets for teaching English in South America, the nation of Chile can be a great adventure for those who love to experience everything and anything from the driest desert in the world to glacial reserves, fantastic mountains, beautiful wine country and spectacular coastlines. For those who venture to teach English in Chile, here are ten gems you will want to be sure to experience.
Northern Chile
1. Landscapes of the Atacama Desert
Home to some of the clearest skies in the world and NASA observatories, the stunning landscapes of the Atacama Desert are spread over some 40,600 square miles in northern Chile and encompass a magnificent array of salt lakes, sand, and felsic lava flows. The Atacama is also considered the driest desert in the world!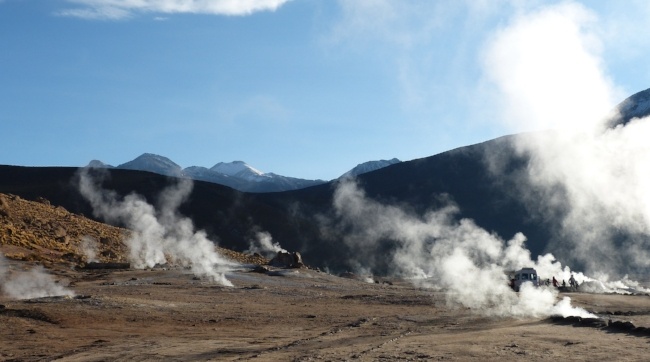 2. The Valley of the Moon and Geysers Del Taito – San Pedro de Atacama
Also located in the deserts of Los Flamencos National Park, the Valley of the Moon is an amazing place that will literally make you feel out of this world. Here, even the simple act of walking becomes an unforgettable and unique experience as you will actually feel like you are walking on eggs shells, and at times, even the moon. Also be sure to check out the area's more than 80 active geysers and local ruins that serve as reminders of region's pre-Columbian heritage.
3. Chungara Lake
Chungara Lake is the 29th highest lake in the world and is part of the Lauca National Park. With an elevation of 20,287 feet above sea-level, the beauty and serenity of the Parinacota and Pomerape volcano provide a perfect locale for experiencing the genius of nature as even the soft breeze will create a tuneful melody in your ears.
4. Laguna Verde
One of the best keep secrets in northern Chile, Laguna Verde's magical and desolate beauty makes it a true hidden gem. Here, emerald lagoons located nearly 14,000 feet above sea-level are surrounded by volcanoes, mountains and even a few flamingos. Those who love the outdoors will also savor world-class opportunities for trekking, hiking, and climbing.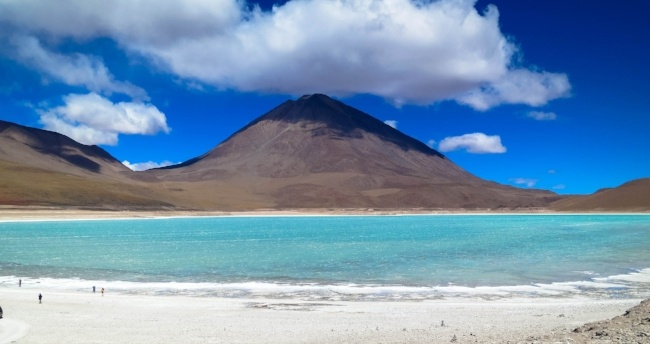 Central Chile
5. Santiago
Home to most English teachers in Chile, Santiago is one of the most beautiful and dynamic capital cities of South America. Located in the Santiago basin, it boasts the Andes as an amazing backdrop, which can be admired in all their glory from nearly any point in the city.
An hour away from the most famous ski centers in the country and an hour's distance from the most beautiful beaches of Central Chile, this cosmopolitan city is an economical and cultural center, not only for the country, but also for the region. English teachers living in Santiago enjoy one of the most amazing cultural and music scenes in South American, including a dazzling array of restaurants, theaters, clubs, bars and malls. Gourmands in particular will savor Santiago's exquisite international cuisine and delectable fresh seafood.
6. Valparaíso and Viña Del Mar
A just an hour and a half away from Santiago, Valparaiso is the largest port in the country, and a popular destination for those teaching English in Chile. It offers a great mix between European architecture and traditional houses painted with vivid colors that create a distinct and unforgettable charm. Known as a home of poets, writers, and other artists, is also a magnet for those who love the bohemian life.
Just 15 minutes away, Viña del Mar - Spanish for "vineyard by the sea" - is yet another beautiful city on Chile's central Pacific coast. Also known as "Ciudad Jardin," which means "Garden City," Viña del Mar is famous for its white sandy beaches and romantic sunsets, as well as an abundance of gardens, castles, casinos and great seafood eateries. It is also home to a globally renowned music festival that attracts music-lovers and musicians from all over Latin America and the world.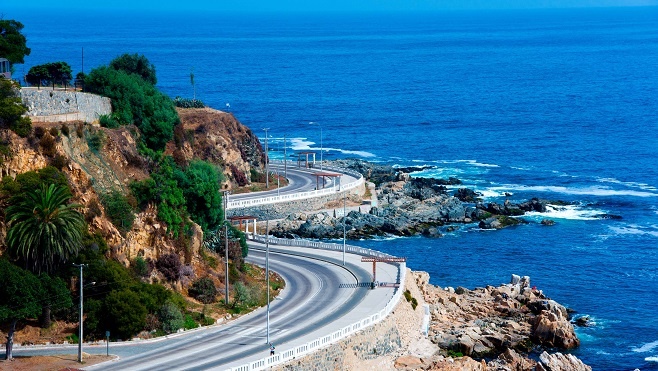 Chile Insular - "The Sporadic Islands"
7. Easter Island
A mysterious Polynesian paradise that is famous for the 887 giant statues called "Moai," which stand along the island facing the ocean, Easter Island is a UNESCO World Heritage landmark. Known as Isla de Pascua in Spanish, the island also boasts some of the clearest waters in the world and stunning underwater topography characterized by spectacular caves, cliffs, arches and coral fields, that make it a mecca for scuba divers from all over the world. Easter Island is also a great destination for surfing, hiking, horse riding, and for all those who love nature adventures.
8. Chiloe Island
The largest of the Chiloe Archipelago and UNESCO World Heritage Site, Chiloe Island is famous for its distinct cultural traditions, unique cuisine and a colorful history filled with legends, fables and old tales of witchcraft, forest gnomes and ghost ships. One of the island's most distinct features are the "Palafitos," houses mounted on stilts along the water's edge, and while visiting you will also want to sample Curanto, a traditional meat, potato and seafood stew.
Southern Chile
9. Torres Del Paine
If there is a paradise on earth, Torres Del Paine may be it. Located in the National Park with the same name, Torres Del Paine is just filled with the most beautiful landscapes in the whole of Patagonia. Mountains, lakes, glaciers, icebergs, flora and fauna embellish even more this earthly dream.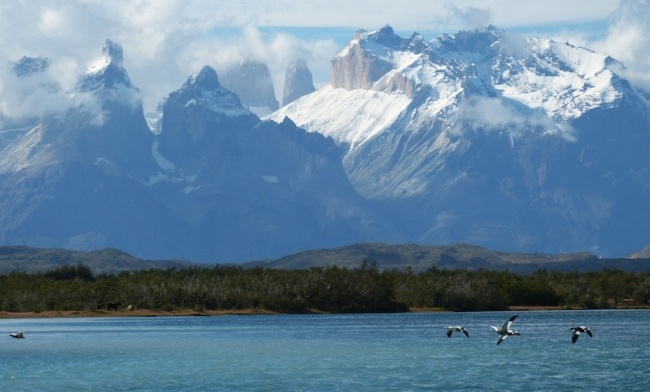 10. The Marble Cathedral of Chile
Located in South America's second largest freshwater lake, General Carrera in Patagonia, Chile, these spectacular natural formations are a perfect mix between emerald-green and turquoise-blue waters, and breathtakingly beautiful marble caves carved into passageways and caverns.
These amazing marble formations were sculpted by erosion into three main marble formations: La Capilla (the Chapel), El Catedral (the Cathedral), and La Cueva (the Cave). These impressive formations are large enough for a small boat to glide through, and those lucky enough to visit in this fashion will enjoy a sense of adventure evoking an Indiana Jones movie.
Related Resources:
Founded in 2010, International TEFL Academy is a world leader in TEFL certification for teaching English abroad & teaching English online. ITA offers accredited TEFL certification classes online & in 25 locations worldwide and has received multiple awards & widespread recognition as one of the best TEFL schools in the world. ITA provides all students and graduates with lifetime job search guidance. ITA has certified more than 25,000 English teachers and our graduates are currently teaching in 80 countries worldwide.
Want to Learn More About Teaching English Abroad?
Request a free brochure or call 773-634-9900 to speak with an expert advisor about all aspects of TEFL certification and teaching English abroad or online, including the hiring process, salaries, visas, TEFL class options, job placement assistance and more.