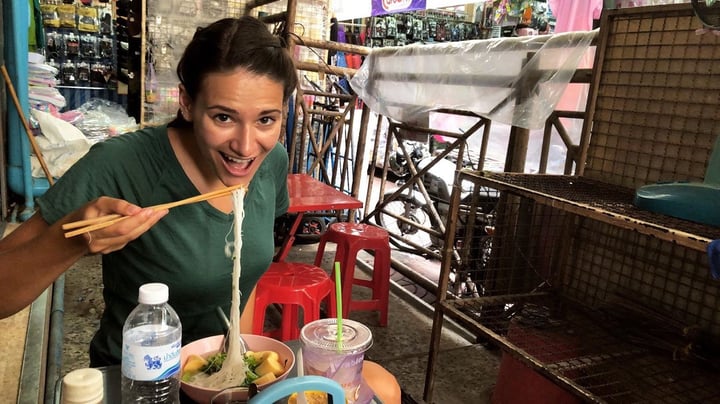 By Nicola Rae
Bangkok has some pretty incredible things going on when it comes to food. Foodies everywhere, you might want to consider passing through Bangkok, Thailand on your next travel adventure. Your taste buds will thank you.
After a little over a month in Thailand's capital, I've found a few food spots that are consistently amazing and affordable. Street food is the least expensive and most widely available food option, followed by mall food courts and then sit down restaurants.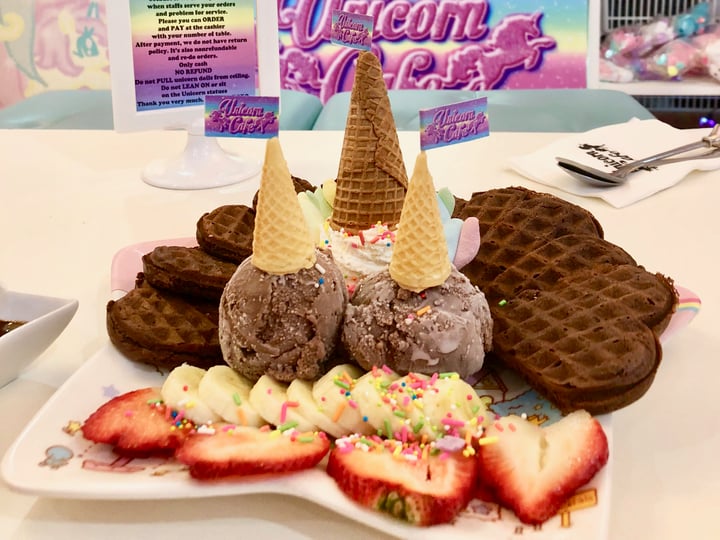 Street Food
I love trying different street foods in Bangkok. Just start wandering around the streets and alleyways in your area and you will probably find something delicious. If you aren't sure where to start, here are a few options.
Pad Thai - Pretty easy to find and order, consistently delicious
Fried Rice - Once again, consistently amazing
Veggie spring rolls - Simple, classic, and out of this world when dipped in that sauce
Fried bananas - It took me forever to figure out what these were but when I did, man oh man.
Fresh Fruit - I'm getting spoiled by the amount and quality of fresh fruit here. Eat your fill of mangos, pineapples, papaya, and watermelon at one of the many fruit carts.
Mango sticky rice - It's sweet but not too sweet. The mangos are fresh and delightful and the rice… yum. Don't even get me started. That reminds me, I have some leftover mango stick rice in the fridge! Win!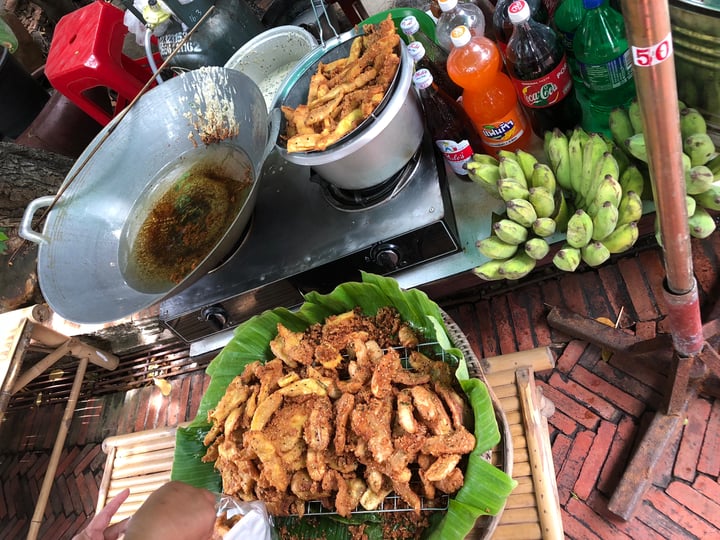 Some of the best street food I've found in Bangkok has been in the night and weekend markets. Chatuchak Weekend Market has outstanding coconut ice cream (served in a hollowed out coconut, no less) and pretty much any street food you could want.
The Rot Fai Weekend Night Market has some of the best variety and it just seems to go on forever. Blended smoothies served inside hollowed out watermelons for two dollars, veggies on skewers, whole salted fish, fried things, broiled things, sweet things, banana roti - it's basically paradise.
Mall Food Courts
Mall food courts are a big thing here and they are a nice step between street food and restaurant food. They are not very expensive and usually have English menus if you aren't feeling super confident in your Thai.
At most mall food courts, you have to go to a cashier first and buy a little card loaded with money. You use this to buy all your food in the food court. When you're finished, you return the card and get whatever money you didn't spend back. Usually loading 200 tbh (or about 6$) is more than enough for a meal and a drink.
MBK Food Island - To get to MBK, take the BTS to National Stadium. Inside MBK take the escalators up. You'll find tons of food on the top level including a nice vegetarian option and tons of Thai options.
Siam Paragon - Basically the whole lower level is food on food on food. They even have a Mexican place! BTS Siam
Siam Center - Good options, though not as big as MBK or Siam Paragon. They have this awesome little mango stand that sells delicious mango mochi that you have to check out! BTS Siam
Terminal 21 - This San Francisco themed food court is on the upper level of the Terminal 21 shopping mall. It has great options and it's less expensive than the other three listed. I got several dishes and desert for less than 100 baht ($3 USD). Plus for desert they have this cool shaved ice with jelly thing that I'm super into now. BTS Asok.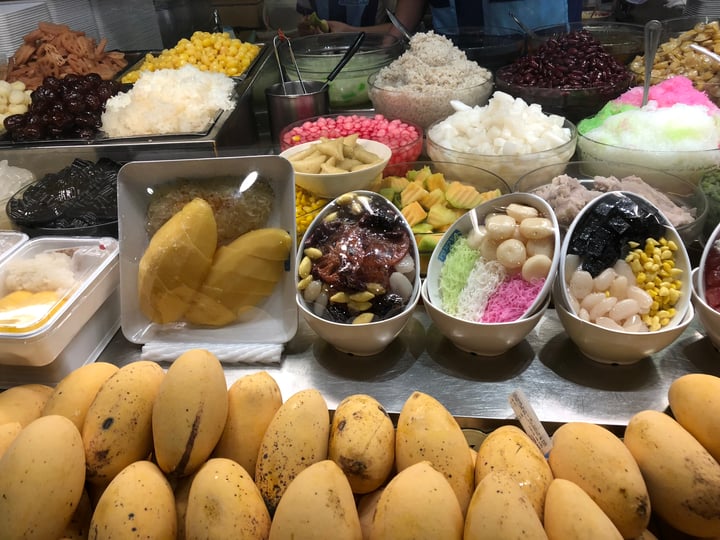 Restaurants
Though it's possible to stay well fed in Bangkok without ever stepping foot in a restaurant, sometimes it's nice to go a little fancy. Here are a few of my favorite places to grab a bite (in air conditioning!)
Naga - Nice Thai food with tons of curries and varieties. They have an English menu and can make dishes vegetarian on request. BTS Chong Nonsi
Unicorn Cafe - Okay, this is definitely a place to go for the gram. I recommend one of their many rainbow desserts or crazy glittery drinks. Read more about the unicorn cafe here. BTS Chong Nonsi
Hong Teong Long - This is an unassuming, family-run Chinese restaurant with delicious food and low prices. Buns and dumplings are the main deal. BTS Sala Daeng
Il Bolognese - A good Italian place because sometimes you just need a pizza. BTS Chong Nonsi
Veganerie - It's vegan! It's amazing! I highly recommend one of their smoothies to accompany your delicious vegan meal. BTS Phrom Phong
Roots - They have great food, a cool ambiance, and a nice ladies night special on Thursdays. Buy food and you get four drinks free. Found in K Village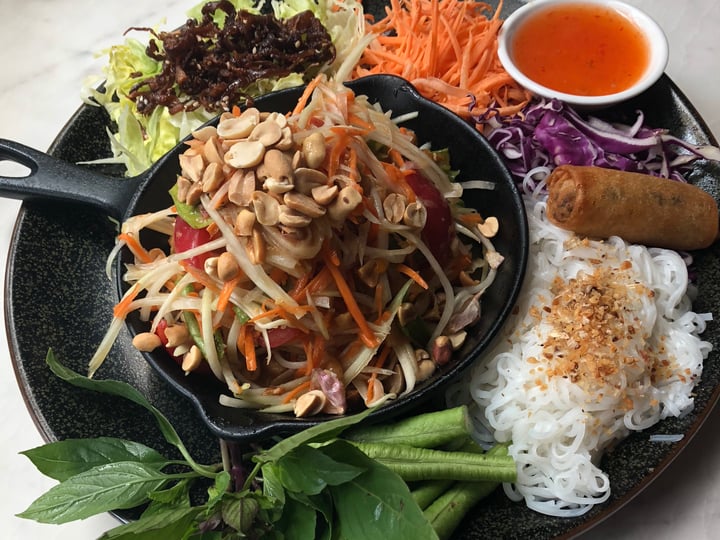 Suffice it to say you certainly won't starve in Bangkok. By stepping out of your comfort zone, even just for one meal, you'll probably find something delicious!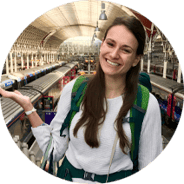 Nicola is an Atlanta native who loves teaching, budget travel, and guacamole. She holds BA's in Anthropology and Sociology from the University of Georgia and a Masters in Education from Francis Marion University. She is currently teaching English online while house sitting. Whens he's not busy teaching or drinking coffee in cozy cafes, Nicola enjoys writing about her travels on her blog seenicwander.com.
---
Want to Learn More about Teaching English Abroad?
If you are excited about teaching English from either the comfort of your own home or anywhere in the world, contact us about TEFL certification options and get ready for a great adventure!
Related Resources: