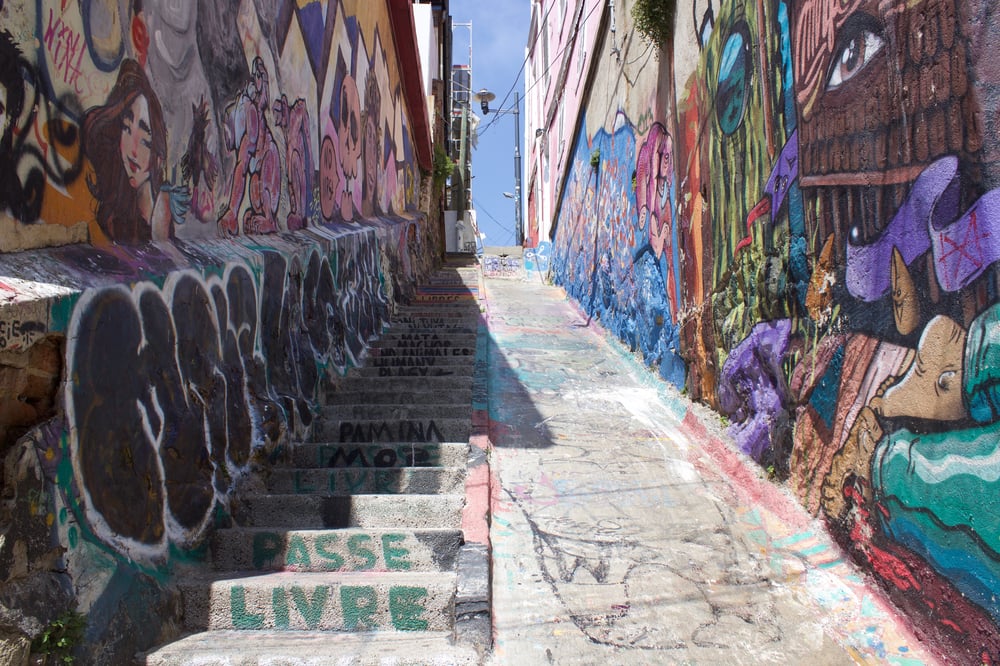 By Scott Mistler-Ferguson


An enormous benefit to living in Viña Del Mar is that I'm just a bus ride away from all of Central Chile's cities, and each one is undeniably different from the other. Valparaíso and Viña Del Mar are a prime exampleof this in their contrasting looks, vibes, layouts, and intangible personalities. Newcomers always comment on how shocking it is that two cities only ten minutes apart appear to be from different worlds. I'll try to create an easier image to grasp.
If Santiago is the parent, then Valpo and Viña are the two kids that moved out to the coast. Viña is the prim and proper daughter who immediately got a high-paying job and always dresses for success. Valpo is not. Valpo is still lingering in his angsty teen phase (even though he's actually much older) and, to the amusement of everyone else in the family, has decided to cover his entire room in graffiti. Get the idea?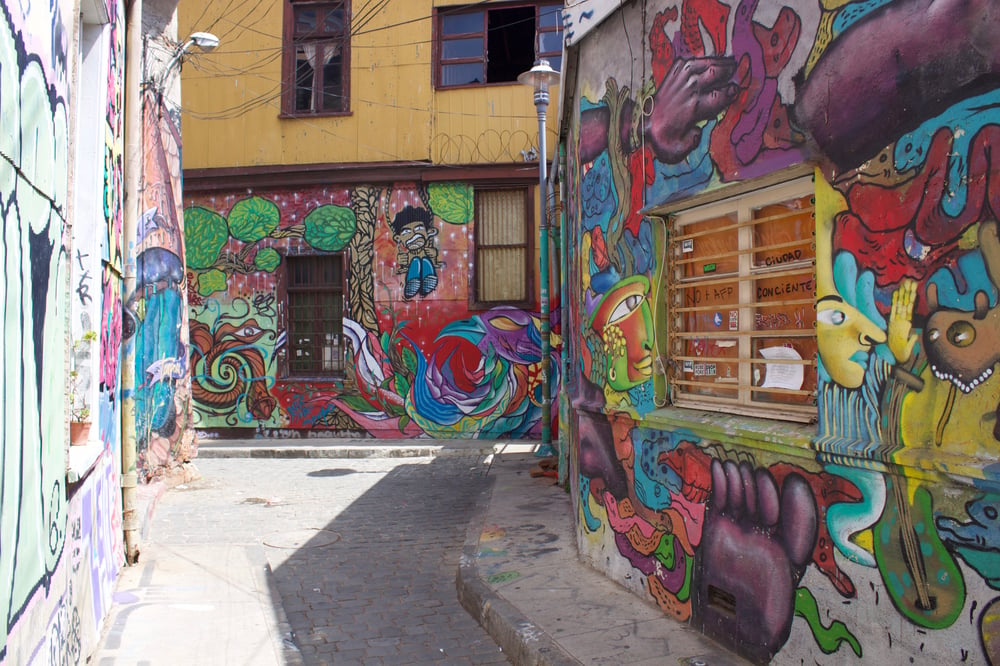 Valparaíso is the ideal city for day trips or a weekend getaway, if you can manage it. Nicknamed, South America's grittier San Francisco, it lives up to this by constantly challenging your hamstrings with ever-ascending hills (43 of them to be specific). It is absolutely not as clean as Viña, but you'll forget about that when you're surrounded by street art that puts the rest of the world to shame.
Logistically, a trip to Valpo is very easy to manage. If you're coming from Santiago, you can bus from one of the two main bus terminals in the city: Pajaritos or Alameda. The journey is only about 1 hour and 45 minutes, and it takes you through sprawling vineyards and palm-tree dotted mountains so it's not exactly a pain. When you arrive in Valpo, you can bus to Avenida Errázuriz from the main terminal and get off at Plaza Sotomayor or continue on to Plaza Wheelwright. I recommend the latter so that you can start your Valpo journey with Paseo 21 de Mayo by taking the Ascensor Artillería up to the top.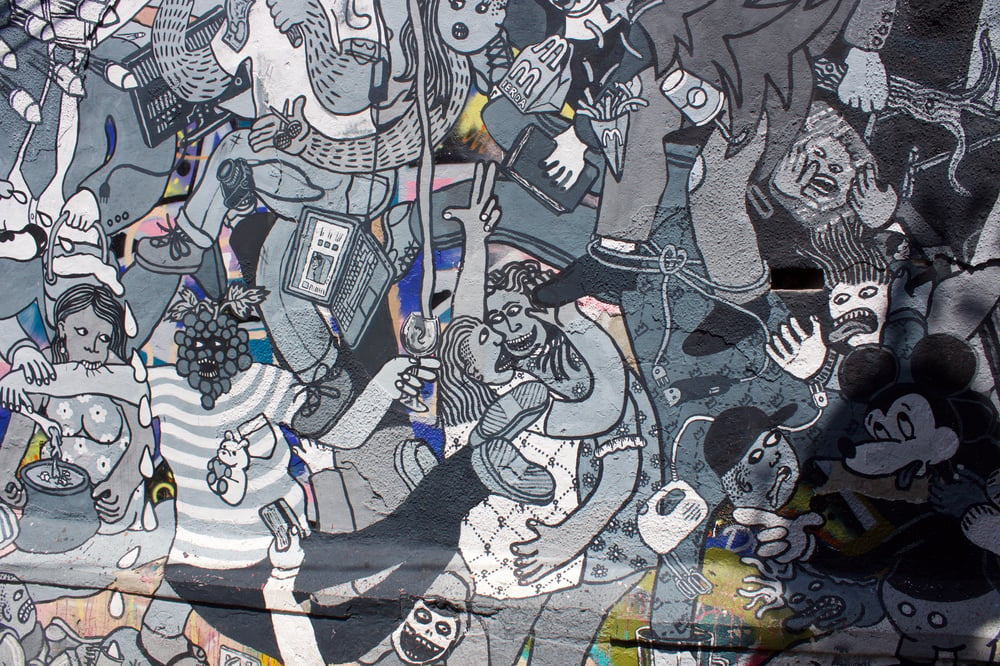 Ascensores, or funiculars, a staple of old time Valpo charm. These nearly-vertical elevators were built during the 19th and 20th century and there are still seven operational ones today. Nine more are currently undergoing restoration.
Anyways, the funicular mentioned above will take you to a perfect view of the famous Valparaíso port where you can spot multitudes of shipping containers, and various cruisers and battleships belonging to the Navy. In the 1800s, Valparaíso was arguably the most important port city in South America. Seeing as traders coming in from the east had to make their way up South America's west coast, Valpo was extremely important for the nation. Unfortunately, the creation of the Panama Canal in 1914 transformed the port city into an unnecessary stop and now its fame stems from its recognition as UNESCO World Heritage Site rather despite the fact that it does remain a major shipping center in Chile.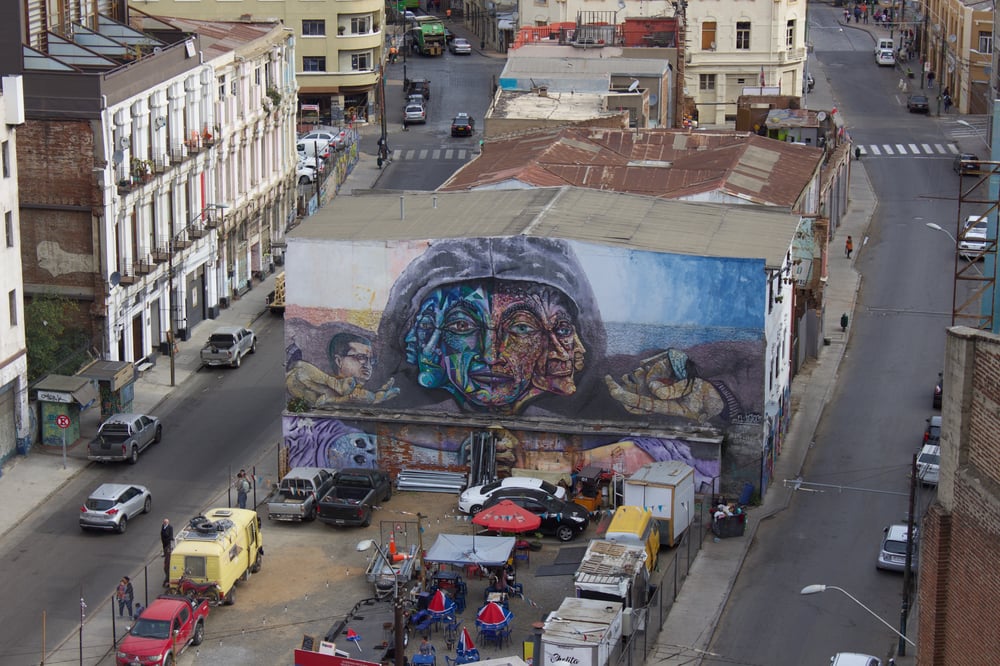 You can learn more about this at the naval museum visible from the moment you step out of the funicular and entry is less than a dollar! After Cerro Santo Domingo, you can wander down to the street level and enjoy the open-air market in Plaza Sotomayor. Vendors hawk t-shirts, herbal tea, rusty ornaments, and just about anything else you might be interested in. Once you've armed yourself with souvenirs, you can head straight to Cerro Alegre for the ideal street art experience. Paseo Yugoslav is a well-marked passage that will take you through the hill and bring you to all of the really impressive artistry.
Street art in Valparaíso holds significant value beyond just the aesthetic. It arose in part as a form of quiet, yet brash political dissent from the Chilean Dictatorship and still remains as a form of voice for those who feel that they have none. An artist's rep is not only defined by what they paint, but where they paint it. People seek out difficult to reach, and illegal areas on which to make their mark as street art does inspire protest. The discordant aspect of this is that as an artist gains appeal in the community, they may eventually be approached by businesses or organizations that want their own walls or structures painted. This represents a dilemma as it can be surprisingly lucrative, but also can be seen as a form of "selling out" and commodifying one's own integrity. Regardless, these urban brushes are ingrained in the city and offer a window into the sentiments and creativity of the porteños (people from Valparaíso).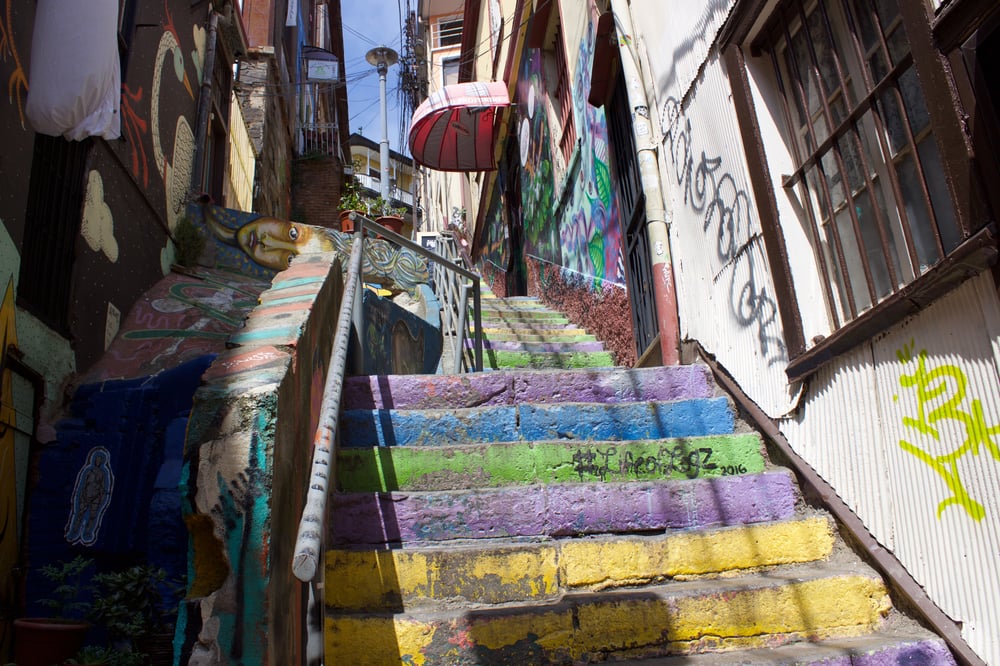 Aside from artistry, you'll find numerous cafes, ice cream shops, and expensive restaurants along Cerro Alegre. You can pop in and grab some exceptional coffee, but I recommend saving your real appetite for Cerro Concepción. It is right next to Alegre and contains some rooftop bars/restaurants with truly magnificent views of "The Jewel of the Pacific".
I am not usually a city-lover, but Valpo is no ordinary concrete jungle. Watching each cerro light up at night from my Viña apartment is a pleasure. Unlike a normal city where it appears to be just a wall of twinkling lights, Valpo's hills become clearly defined at night as they form a patchwork of yellowed lines that look like an overgrown ant farm of noise and color.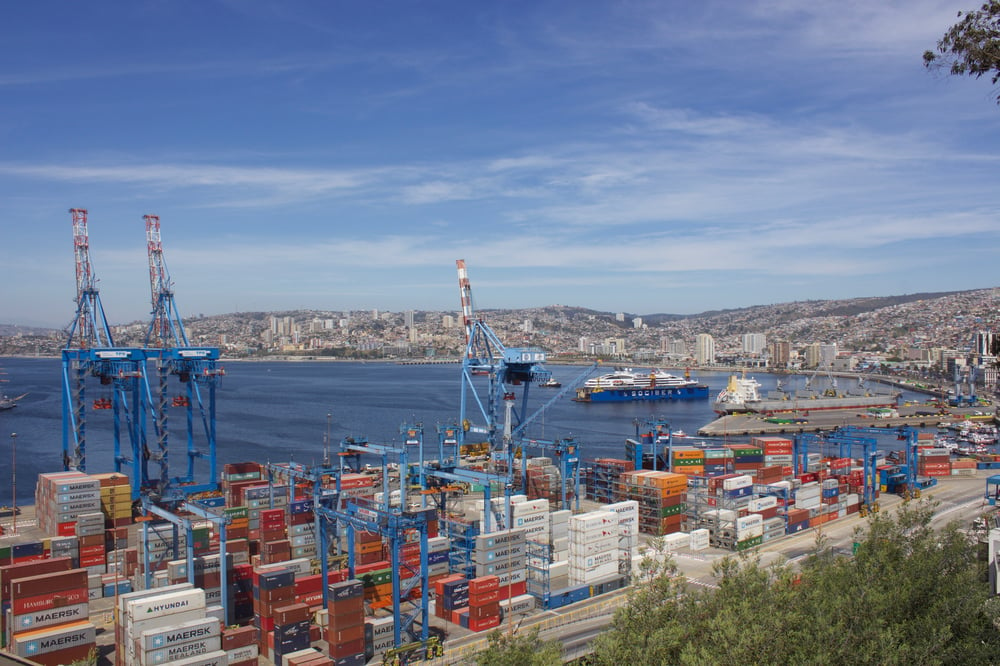 An excursionist at heart from the town of Bethlehem, New York, Scott moved to Chile immediately after graduation in pursuit of adventure, learning, and some awesome story-telling material. Read more about Scott.