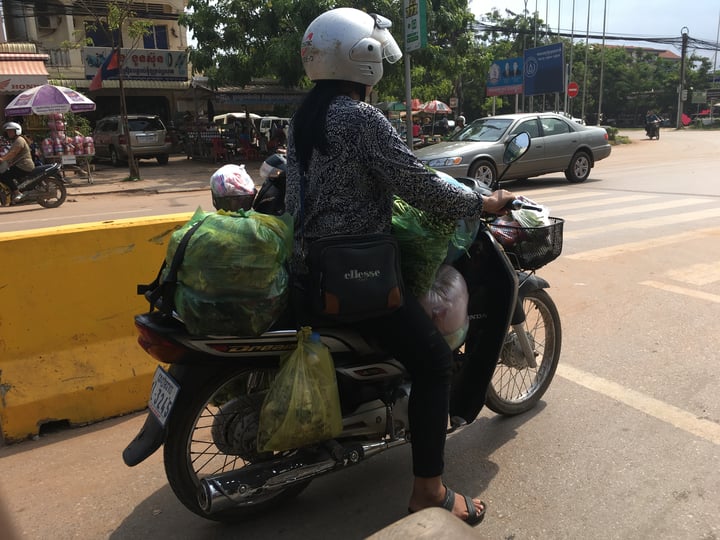 By Kate John
Teaching English in Cambodia will be an adventure you tell you friends for the rest of your life. The sights, smells, and methods of travel will be something right out of a thriller movie. The first time I hopped onto a scooter with two other grown adults, I knew I was in a different class of travel. Getting to school everyday is almost as much of an adventure as teaching the kids themselves. There are always common practices to keep in mind though, like keep anything you don't want someone to take inside your pockets or bags at all times and the first quote from your tuk-tuk driver is always going to be too high.It's inevitable that no matter where in the world you live, there is probably some sort of issue with the transportation scene. So let's start with the things you won't be looking forward to...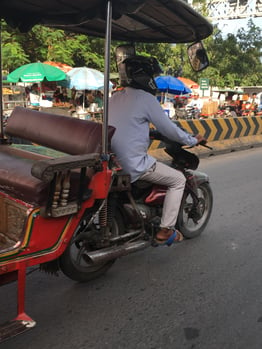 Cambodia is still growing and finding its way into the pedestrian future. Public transportation is lacking in the conventional sense. There is a bus line that runs but probably not anywhere you want to go. Also, finding any information for that bus line is pretty non existent unless you're fluent in the local Khmer. Phnom Penh has noticed the importance of the train system so they have built one from the airport to the city center, but there is no rail system like Japan touts. As the economy begins to improve, so too will the means of transportation.
The thing that really makes traveling in Cambodia a bit of a hectic experience is the lack of sidewalks. That's right ladies and gentleman. You will be one with traffic as you make your routinely walk to the "supermarket" or local watering hole. This does come with its benefits though. You will be able to show off your jaywalking abilities to your friends when you get home, and not to mention how good you will be at frogger by the end of your teaching trip here in the Kingdom of Wonder.
Alright now that we got the shortcomings of transportation in a developing nation out of the way, let's talk about what we do have here in Cambodia. Tuk-tuks, Rickshaws, and Scooters oh my!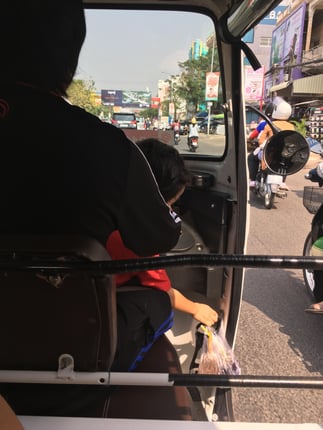 In a city built during the colonial France's reign, the streets fill up quickly with large vehicles. Smaller sized modes of transportation are much easier to navigate the city with. Scooters, or larger scooter-drawn carriages (tuk-tuks) are a popular choice. People put everything and anything on their scooters. Dogs, groceries, entire butcher shops worth of chickens, five human beings, everything. I carpool with other teachers every morning in a tuk-tuk, our regular driver navigates the morning traffic terrifically.
Most tuk-tuks will haggle with you over price, a negotiation best done after the ride, not before. They are a great way to see the city, and easy to hail throughout the city. These are quickly being replaced by rickshaws being imported from India, used in ride-ordering app services like PassApp or Grab. They are smaller than tuk-tuks, but also come with the convenience of taxi-meters, eliminating the need for haggling. This is usually how I get home from work, as my carpool companions and I leave school at different times. If you're wary of motor vehicle transportation, as is wise, there is always the bicycle option. Many people ride a bike in this fairly flat city, and it works well for them.
There's a lot of options out there for people. The thing I love most about getting around Phnom Penh is that there is rarely a need for a car. While that does not mean there isn't plentiful air pollution in this country, it does make me feel good not relying on cars all the time. So it is true that Cambodia has a ways to go in terms of public transportation, and sidewalk development. Don't hold that against it, though. The tuk-tuks putting around town are charming, I've found the drivers here much more enjoyable and good natured than those of the neighboring Thailand. Cambodian people are very nice, that definitely makes a difference when trying to negotiate transportation in such a personal economic transaction.

After volunteering for a year in the Denver Public School System, Kate felt like she needed a change. Her and her boyfriend both got TEFL certified and set off on an adventure of a lifetime in the Kingdom of Wonder. Kate is one of ITA's Writing & Content Ambassadors.
---
Want to Learn More about Teaching English Abroad?
If you are excited about teaching English from either the comfort of your own home or anywhere in the world, contact us about TEFL certification options and get ready for a great adventure!
Related Resources: