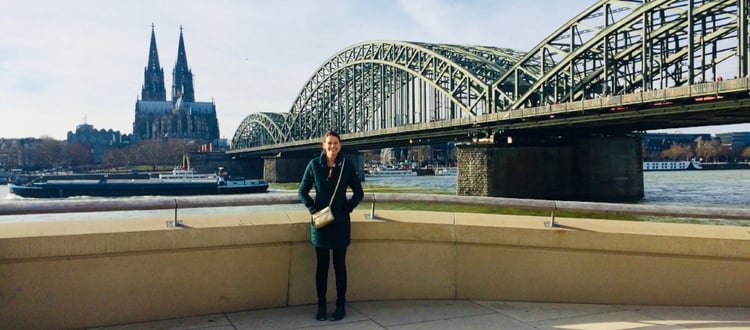 By Nicola Rae
It isn't hard to become absolutely enamored with Germany. Who wouldn't love a country with a tradition of Kaffee und Kuchen (or afternoon coffee and cake)? Cologne just happens to be one of most notoriously friendly German cities.
During my six week house sit in Cologne, I taught English online with VIPKID, bought four dozen kiwis from the local market because German is hard, and gorged on fresh bread because I have zero self control and I can't walk past a bakery without trying something new. "Just a small slice, please, I have six more bakeries to pass on my walk home..."
Most importantly, I made some new friends. These friends showed me some of their favorite spots in Cologne, which I'll now claim as my favorite spots in Cologne.
Em Golde Kappes - One of the oldest Kolsch Brauhaus in Cologne, serves traditional Cologne and German dishes. I recommend drinking Kolsch but the servers will keep bringing it to you until you put your coaster on top of your empty glass so be warned!
Bar Celentano - Authentic rural Italian food, good Vitello Tonnato, fully booked on evenings and weekends so you should make a reservation
Toscanini - Best pizza in town (according to my house sit hosts, long-term residents), cheap, great value, usually requires a reservation days in advance because it is so popular
Nagoya - All you can eat sushi and Japanese food. This restaurant was fascinating to me. You get an iPad and you can order up to thirty small plates (two pieces of sushi per plate). They bring you the first round and in fifteen minutes, you can order a second round. And a third. And a fourth. Until you've had all you can eat. A great place to go with friends and an awesome way to try a bunch of sushi for one flat price.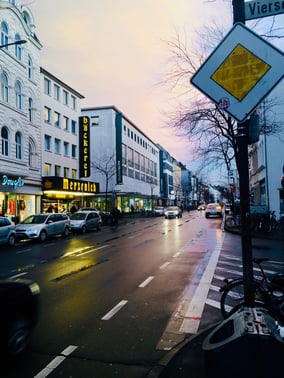 Habibi - Lebanese style food (like falafel and shawarma), fresh, inexpensive, original, a must see in the student quarter
LU - Stylish Vietnamese cuisine in the student and party area at Zulpicher Platz
Merzenich Bakery - This a popular bakery chain in cologne and it is one of the best. The breads and sweets are made fresh and always amazing. This is the place where I stop at least twice on my way home from anywhere and may or may not fill my pockets with coconut macaroons.
Café Reichard - Remember that thing about Kaffee and Kuchen? This is the place to get it! Cafe Reichard is right next to the Cologne Cathedral so you can enjoy your treat with a spectacular view. You aren't limited to cake here. They have a huge selection of macaroons and chocolates too.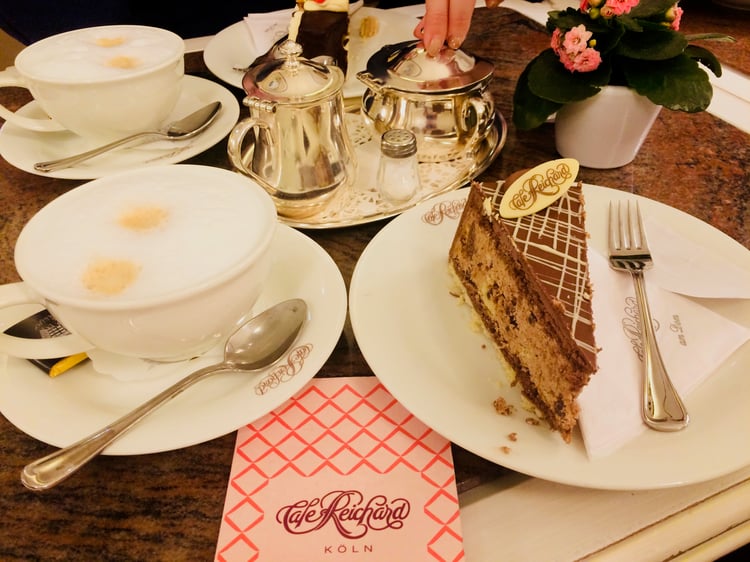 Best Activities
The Cologne Dom (Cathedral) - You have to see it at least once, but you will probably see it a dozen times since it's right smack in the middle of town and enormous. Construction started on the cathedral in the 1200s and like most historical places, it's still got scaffolding on one side. This cathedral has survived weather and war and time and it is one of the most visited places in Germany. You can go inside for free and be wowed by the stain glass (including a more recent modern addition by Gerhard Richter that the Cardinal allegedly dislikes)
Hohenzollern Bridge - This is the bridge right behind the Cathedral that crosses the Rhine river. There is a heavily populated pedestrian path along the bridge that gives you amazing views of old town, the riverfront, and the cathedral. When you get to the other side of the Rhine, there is a viewing area where people go to hang out and watch the sunset. Grab a coffee or local brew and enjoy the sunset over an iconic German cityscape.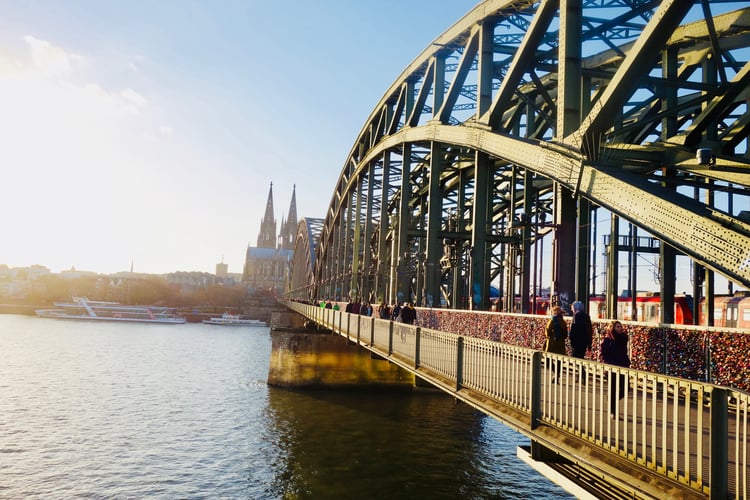 Off Broadway - English/Original movie theater. It doesn't show super new releases, but still has a good variety of movies.
Zulpicher Platz - Party area near the university, lots of clubs and bars, especially lit during Carnival.
Ludwig Museum - A modern art museum where you could easily lose a day. They have a upstairs overlook with an awesome view of the Cologne Cathedral too! Be prepared for strange but fascinating instillation pieces, pop art, and some of the classics.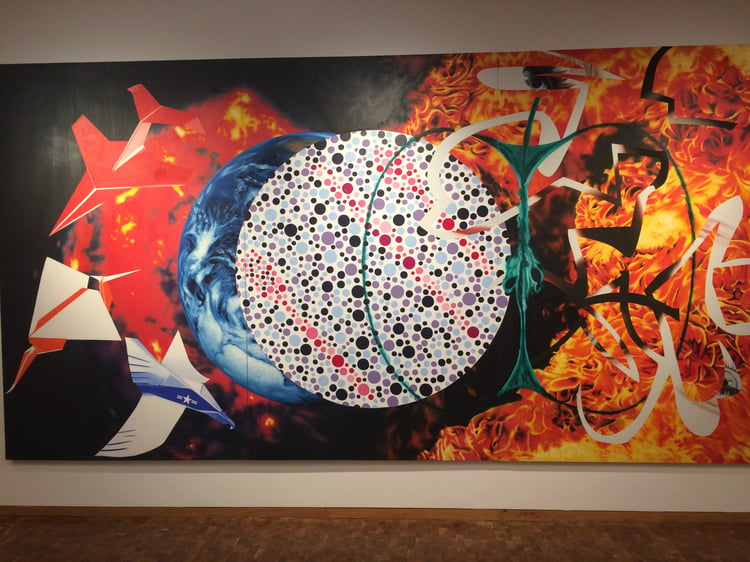 Like so many stunning cities around Europe, one of the best ways to spend the day in Cologne is simply to walk around. There is a beautiful old town area along the river with plenty of narrow streets to get lost in and delicious things to discover.
I highly recommend anything bread.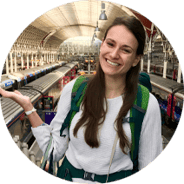 Nicola is an Atlanta native who loves teaching, budget travel, and guacamole. She holds BA's in Anthropology and Sociology from the University of Georgia and a Masters in Education from Francis Marion University. She is currently teaching English online while house sitting. Whens he's not busy teaching or drinking coffee in cozy cafes, Nicola enjoys writing about her travels on her blog seenicwander.com.
---
Want to Learn More about Teaching English Abroad & Online?
If you are excited about teaching English from either the comfort of your own home or anywhere in the world, contact us about TEFL certification options and get ready for a great adventure!
Related Resources: