Our ITA Alumni Ambassadors are living in some of the world's greatest cities. We asked them to hit the streets and give us an inside look at their favorite neighborhoods to hang out and spend an afternoon. From the best coffee shops and restaurants, to the more off the beaten path hidden gems, our Alumni Ambassadors are on the ground abroad & ready to spill their tips!
---
Eixample is an incredible area; from the unique design of the octagonal blocks to the easy accessibility to anywhere inside and outside of Barcelona. It is designed in a grid pattern, which makes navigating around incredibly easy. The area consists of five5 neighborhoods or barrios: Esquerra de l'Eixample, Dreta de l'Eixample, Fort Pienc, Sagrada Familia, and Sant Antoni.
All the barrios are filled with beautiful modernistic architecture. You can walk around for hours and see some of the most unique buildings unlike any other city. The neighborhood plan was designed by Ildefons Cerdà who wanted the needs of the residents to be met and included markets, schools, and hospitals that are easily accessible. You will notice that there are still a lot of markets, shops, restaurants, and businesses on every block. If you don't see a restaurant you like, you are almost guaranteed to find one within a block.
If you travel away from the touristy areas you will be very happy to see what life in Barcelona can be like. Access to the bus and metro (Ferrocarrlis, Metro, and Renfe) lines makes getting to the other side of town very easy.
Take me back to the Alumni Ambassador Corner
---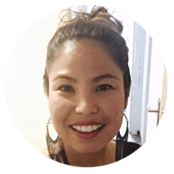 A lover of travel, especially to Europe, Kaci Takomoto has always wanted to live abroad. Finally she was able to fulfill her dream and moved to Barcelona, Spain and became a teacher of English, finance, math, and marketing. "My spirit animal is probably a panda bear. Not for the obvious Asian reason but because they seem super laid back and like to enjoy life.'