By: Kirsten Iverson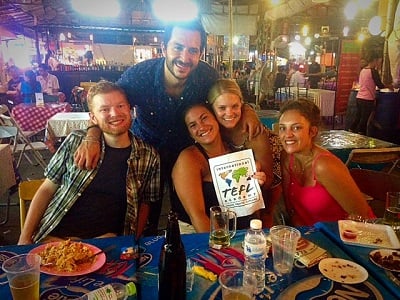 The smell of fried food and fish wafted through the air. Glasses clanked together and beer spilled over the edge onto the dirt floor. Dogs sniffed around looking for scraps, and 90's covers sang by a Thai woman in impressive English radiated off the overhead canopy and food stalls. It was a hot and humid Saturday evening at the On Nut Night Market; a spot filled with locals and expats alike, all drinking, eating, listening to music and watching football.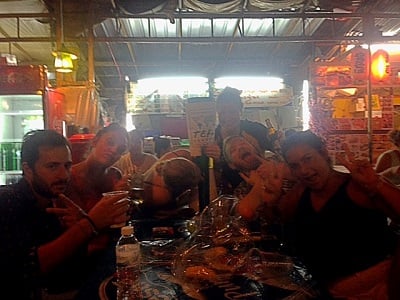 We snagged a table by the stage (and close to the bar). The group was small but no less loud, consisting of ITA alumni from Chicago, Boston, St. Louis, and Ireland, all meeting together in Bangkok, Thailand. Our grad from St. Louis touched down in Thailand a mere week ago and traveled an hour to attend our meet-up! Myself, living in Bangkok for six months, and the other alumni eight and nine months, are all in love with some part of Thailand and teaching in this diverse country. It was great to learn and share from each other, discuss our International TEFL academy courses, swap teaching anecdotes and travel stories and of course, our favorite Thai dishes.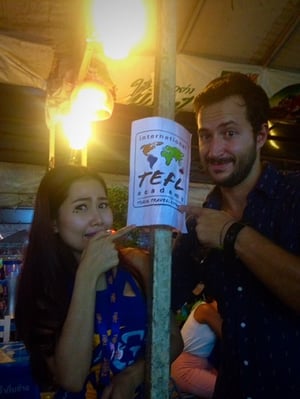 There was no shortage of beer. Towers of Chang and Leo decorated the table as we tried to sip fast before the beer melted in front of our eyes from the 95-degree heat. Snacking on sweet nuts and broad beans sold by the men walking around with baskets connected to their hips. After a few beers, we munched on delicately smoked fish and burned our mouths on hot sauce. We dug into som tam (green papaya salad), and soaked up the sauce with balls of sticky rice. We ended the meal with fresh sliced mango, which is in its prime season right now. We met some Thai friends and started singing along to the songs from our past while we screamed across the table at each other trying to block out the noise. After enjoying all the food and drinks, we went back to my apartment and continued the party, sipping Thai wine on the balcony and grooving to reggae music, engrossed in our new friendships and the place that brought us together: ITA.
Kirsten is an ESL Kindergarten Teacher in Bangkok, Thailand. Sick of freezing winters, short summers andan office with no window she moved to Asia to teach and travel. She can be found on the back of a motorbike taxi hanging on for dear life, trying to order coconut shakes in Thai or lounging by the pool.
For more on Kirsten's adventures, check out her other writings: