Each year more than 3,500 people from all backgrounds earn their TEFL certification from International TEFL Academy and gain employment teaching English in 80 countries worldwide from Spain and Thailand to Costa Rica and Japan. Fill out the form to receive:


Free Downloadable Brochure: 30 Pages detailing the world of Teaching English Abroad;
Country Chart: Compare salaries, hiring requirements, start-up costs and more for teaching English in more than 50 countries;
Expert Guidance: Get all your questions answered and receive expert advice from experienced advisors, all of whom have lived and worked abroad;
TEFL Certification Options: Accredited Online & International TEFL TESOL courses in 25 locations worldwide that will provide you with a qualification to teach English in tens of thousands of schools worldwide;
Job Search Guidance: Learn about the job placement assistance that our students and graduates receive to gain employment teaching English in 80 countries.

REFERRAL BONUS DISCOUNT FOR TEFL COURSE TUITION!

Because you were referred by a friend, you are eligible to receive an extra $50 off your TEFL course tuition. Be sure to mention the person who referred you in the form to the right (they will also receive a $50 referral bonus payment).
Meet Your TEFL Admissions Advisor - Ashley Houston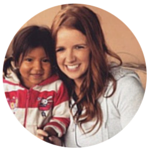 Midwest at heart, Ashley traveled to more than 35 countries by the time she turned 30 (studying abroad six times!). Growing up in language and cultural immersion programs solidified her love for all things international education, and she graduated with a BA in Japanese and an MA in Intercultural Relations. Outside of the office she is an avid yogi, runner, and lover of sour beers!
To receive your brochure & work with Ashley, please fill out the form or