TEFL TESOL Certification
Cambodia - Vietnam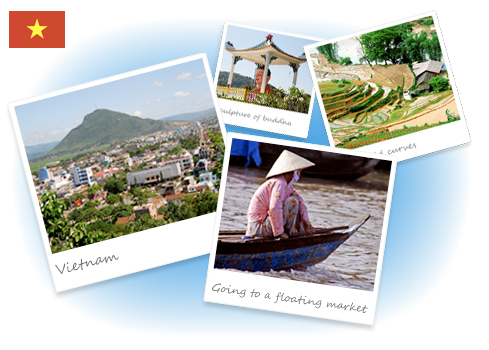 Length of training: 4 weeks

Tuition - 2016 Courses: $ 1,525 ($ 500 Deposit, $ 1,025 balance)

More information on TEFL Course Dates
Degree Requirement: A 4-year BA college degree (or the equivalent) is required to enroll for this course.
Note: This is a partner course of International TEFL Academy. All students receive the full benefits of ITA students and alumni, including lifetime Job Search Guidance.
Class Calendar:
Weeks 1 - 3 of course are held in Phnom Penh, Cambodia
Week 4 is in Ho Chi Minh City, Vietnam
TEFL Certification Classes in Ho Chi Minh City, Vietnam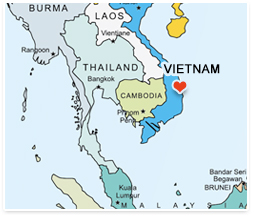 With a population of nearly 90 million and one of the most dynamic economies in the World, Vietnam represents one of the fastest growing job markets for teaching English in Asia. Featuring expert instruction and live practice teaching with local ESL students, this 4-week intensive class, which combines two weeks in Cambodia and two weeks in Ho Chi Minh City, Vietnam, provides a recognized certification that qualifies graduates for thousands of English teaching jobs in Vietnam and around the world. All graduates receive lifetime job search guidance to assist in gaining employment teaching English in Vietnam and around the globe.
Discover Vietnam
Bridging the Confucian strongholds of China with the tropical Buddhist lands of Southeast Asia, Vietnam is a land that overwhelms most visitors with the sublime beauty of its natural settings from the spectacular limestone islands of Ha Long Bay in the north to the vast wetlands of the Mekong Delta in the south.
Boasting thousands of years of history and culture, Vietnam offers a rare blend of traditional charm and tranquil natural beauty with the dynamism of one of the world's fastest growing economies and a society that is rapidly opening up to the outside world after decades of war and isolation. Here, divine beaches line magnificent coastlines, while inland soaring mountains cloaked by dense, misty forests overlook acre upon acre of rice paddies where farmers in traditional conical hats meticulously tend to the seasonal harvest just as their forefathers have for generations. Mirroring the country as a whole, the Vietnamese people are hard working and industrious, and at the same time strikingly friendly and optimistic.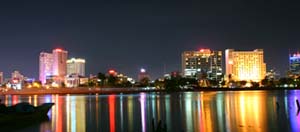 Ho Chi Minh City (formerly Saigon) is the economic and cultural engine of Vietnam. A bustling, dynamic and industrious center of commerce and culture, i t is the largest city in the country, the economic capital, and the cultural trend setter. The streets, where much of the city's life takes place, are a charming jumble of endless markets, shops, pavement cafés, stands-on-wheels and sidewalk vendors selling everything from high definition televisions to live seafood. It's impossible not to be infected by its distinct combination of native heritage, French cultural influence, and 21st century globalization as modern skyscrapers stand side-by-side with fading colonial buildings, Chinese-style pagodas, and historical landmarks such as the Notre Dame Cathedral, Old Post Office and the Reunification Hall.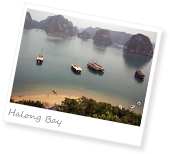 The city is also the culinary capital of Vietnam and offers a staggering array of gastronomic delights from regional Vietnamese specialties and sumptuous street-side fare to world class international cuisine, including French, Chinese and Japanese. In addition, Ho Chi Minh City has a vibrant nightlife with many local and Western bars and cafés concentrated in the city center.
Landscape
While teaching English in Vietnam, you should absolutely tour the countryside and visit the nation's beautiful beaches and islands. The landscape surrounding HCM City is lush with greenery, while wide sandy beaches and breath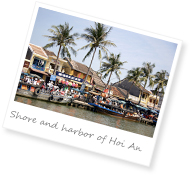 -taking islands are within easy drives.
Farther north, mountains and sea - often with little or nothing in between - dominate the landscape. The cool highlands conceal the Phong Nha caverns and the mind-boggling mountain passes of Ngang and Hai Van. The Red River Delta, where the ancient Viet people settled, is surrounded by yet more mountains scattered with grottos, waterfalls, mountain lakes, and diverse ethnic groups like the H'mong, Dao, and Hoa. Dien Bien Phu, Fansipan Mountain, and the uniquely lovely Ha Long Bay are sites not to be missed.
Staff Articles:
ITA Alumni feeback:
Q&A from ITA Alumni - Teaching English in Vietnam:
Alumni Articles - Teaching English Abroad:
International TEFL Academy offers

lifetime job search guidance

for all our graduates.
Tuition Covers:
TEFL TESOL course fee

Course Book

Job search guidance in Vietnam and worldwide

Tuition does not cover:
Personal Expenses

International Flights

Visas


Insurance

Airport Pickup

Housing is paid direct to hostel & apartments directly Vietnam
Housing & Communication: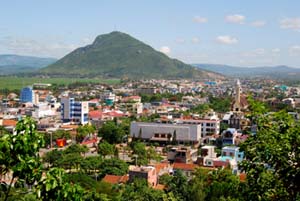 During the four-week training program, housing will be available at a local hotel or in the nearby apartments. These Apartments are set up for single occupancy, though couples can certainly share an apartment if they wish. All apartments are large and fully furnished with double beds, wardrobes, dressing tables, air-conditioning, TV with cable, refrigerators, microwaves, western style bathrooms with hot water, tables, chairs, and couches. Kitchen utensils, bedding, and towels are provided. Often, a one month security deposit and the first month's rent are required at the time of rental.
An international cell phone will be available to all program participants ($75 dollar fee for lost phone).
You will be given access to the Internet during training at the training center. Most hiring schools have Internet access available to teachers during school hours. Public Internet cafés are also available.
Food:
While living in Vietnam teaching English, food will be a daily treat. Vietnamese cuisine differs strikingly between the north, south, and central regions, but two key features stand out.


First, rice plays an essential role in the nation's diet as it does throughout Southeast Asia. But this is also a noodle-crazy population, regularly downing them for breakfast, lunch, and dinner in homes, restaurants and at roadside stands. Noodles are eaten wet and dry, in soup or beside soup, and are made in different shapes and thicknesses.

Second, no meal is complete without fresh vegetables and herbs. A key portion of every meal, north, south and central, is a platter containing cucumbers, bean threads, slices of hot pepper, and sprigs of basil, coriander, mint and a number of Southeast Asian herbs. A typical meal will set you back no more than $2-4 US dollars.

Wherever you find yourself in the country, Vietnamese food is always fresh: ingredients are purchased from the market the same morning. The abundant fresh fish, lobster, crabs, and cuttlefish will leave seafood fans dreading the return home.

For carnivores, fish, chicken, or pork dishes, served with cooked vegetables and rice, form a typical meal. The dishes themselves are rarely spicy, but are accompanied by a variety of condiments including chili sauce, fish sauce ('nuoc mam'), and soy sauce. Vegetarians will also rejoice in Vietnam, as the nation's strong Buddhist roots mean that vegetarian options are widely available. Fresh vegetables and fruits are in abundant supply, as are vegetarian restaurants.

Expect to try "pho", a type of rice noodle soup eaten for breakfast; "cha gio" ("nem"), deep-fried spring rolls; and "goi ngo sen", a delicious salad made with lotus stems, shrimp, and peanuts.

Ho Chi Minh City also offers a wide array of Western and international cuisine. Although they tend to be a bit more expensive, it's not difficult to find French, Italian, German and American restaurants as well as Thai, Indian
and Chinese dining establishments.

Chopsticks are standard, especially with noodles or rice, but western utensils are nearly always available, however, and are commonly provided with international fare.
Throughout this course, TEFL TESOL participants are responsible for their own meals.
Clothing: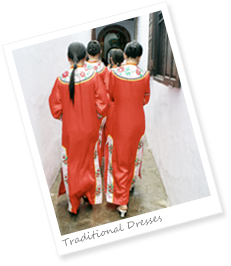 As a professional English teacher in Vietnam, you will want to dress professionally but comfortably in this tropical weather. Light, comfortable, easy to launder clothing in natural fabrics such as cotton suits life in Vietnam well. Good walking shoes and sandals that can be easily slipped off are recommended, as shoes are removed when entering temples and homes. No need to over pack, as high-quality clothes are strikingly cheap, while inexpensive laundry service is generally available wherever you go.

Vietnamese people are quite conscientious of their dress. The nationwide stress on maintaining a neat and clean appearance creates a marked disparity with some Western visitors. For instance, Vietnamese would never dream of wearing dirty clothes while traveling, and visible tattoos and piercings are frowned upon.

Dress codes while teaching range from Western "Business Casual" to "Sport Casual" (track pants and short-sleeved shirts) to "Traditional," which could include a locally handmade, ornately decorated silk shirt that is somehow more comfortable in the heat than anything else you own.

While working, English teachers should expect to adhere to local standards of professionalism. "Casually smart" attire means that women should cover their shoulders and avoid low-cut necklines, very short skirts and shirts that expose their midriff. Open-toed shoes are acceptable.

Men should wear long pants (not jeans), short- or long-sleeved shirt with a collar (possibly with a tie), and loafers or dress shoes. Sandals and tennis shoes are not acceptable when teaching. Long hair should be neatly tied into a ponytail.
Weather in Vietnam
The south has two seasons: the wet (May to November, wettest from June to August) and the dry (December to April). During the wet season, there are heavy but short-lived downpours almost daily, usually in the afternoon. Wet season daily highs are around 31ºC / 88ºF. The dry season begins "cool" (in January the overnight lows are about 21ºC / 70ºF), though late February through May are the hottest months. Things cool down slightly when the wet season begins.

Being o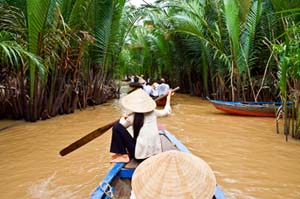 nly 10.5º north of the equator and 5m-10m above sea level, Ho Chi Minh City has a tropical climate. Temperatures vary little with the seasons, averaging 26ºC / 79ºF in January and 28ºC / 82ºF in July. Average humidity is 80%, and annual rainfall averages 1979mm. The coldest temperature ever recorded in Ho Chi Minh City was 14ºC / 57ºF.

In the North, the rainy season ends in September, and there are four distinct seasons. Daily averages in Hanoi vary from around 20ºC / 68ºF in mid-winter to around 28ºC / 82ºF. in mid-summer.
Excursions:
Excursions are not just a leisure activity while teaching English abroad in Vietnam - they are an integral part of developing a true understanding of the character and beauty of your host country and its surrounding area.
We balance the intensive classroom work an
d practice teaching by offering a series of optional excursions that occur throughout your training and your time in Vietnam.
Your TEFL Certification offered in Vietnam includes an initial welcome tour of Phnom Penh during your arrival weekend.
Our top optional excursion is a visit to Angkor Wat in Cambodia following the first week of the program. This has been our most popular excursion by far - wander through ruins of the largest religious building area in the world where temples range in condition from moderately restored to jungle encrusted. The excursion includes time for a visit to a near-by waterfall to cool off, relax and enjoy. This trip creates memories that will be treasured forever! A second weekend excursion is to the beautiful beaches of Sihanoukville in Cambodia. Here you will have a chance to relax, swim, and enjoy some good food.
In addition, approximately once a month, excursions in Thailand, Vietnam, Laos, and Cambodia are arranged for our TEFL certified teachers who wish to participate. Some of the trips currently offered include:
Scuba diving in Ranong, Thailand

Rocket festival and kayak trip in Laos

Hanoi, Hai Long Bay, and the mountain village of Sapa, in Vietnam

Sihanoukville Beach in Cambodia

Flower festival in Chiang Mai, Thailand

Nha Trang beach and boat trip in Vietnam
Costs vary by excursion. This is a great way to travel and spend time with people you either met during the training, or other TEFL course participants working in different Asian countries.
Things to See & Do in and around Ho Chi Minh City:
The Vietnam (American) War is a topic that still fascinates foreigners, and many of Ho Chi Minh City's tourist attractions focus on this interest. In central Saigon, the most intriguing sites for war buffs include the War Remnants Museum and Reunification Palace.
If you'd rather pursue the topic of religion, be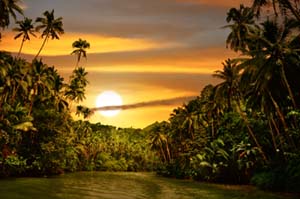 sure to check out the Giac Lam Pagoda, Jade Emperor Pagoda and Vinh Nghiem Pagoda. A day-long excursion to Tay Ninh is required to visit the incredible Cao Dai Great Temple.
Boat trips on the Saigon River are always a great way to take refuge from the urban pandemonium. Further afield, beach buffs are sure to appreciate either beauty of Mui Ne or the tranquility of Phu Quoc.
There are lots of day trip opportunities and fun things to do near Ho Chi Minh City. If you like waterparks, the city suburbs boast three! History buffs might enjoy the Cu Chi Tunnels, the Viet Cong's secret underground supply houses and passageways. Visitors can tour the tunnels, the war history museum and even get to fire M-16s or AK-47s. Can Gio, an island located where the Saigon River meets the sea, boasts a beach, a mangrove park with plenty of monkeys, as well as a colorful market and temple.
Job Prospects & Pay:
Most English language teachers take jobs at language centers, although some public schools can now afford to hire TEFL certified teachers. The work week typically entails 25-30 hours of class time in addition to lesson planning and preparation. Most language centers offer evening classes on weekdays in addition to weekend classes.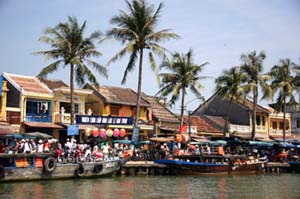 Typical wages in Vietnam for certified English teachers range from US $1000-$1500/month. Benefits vary greatly from school to school. (Salaries are always paid in dong and are usually paid at the end of the month.) Quite often, if a teacher stays for one year, the school will pay for the airfare to another destination or will give a bonus. As you would expect, the larger cities have higher living costs, but pay rates are also higher. Local living expenses are low: about US$500-700/month. Certified English language teachers can earn enough to live very comfortably and still save at least several hundred dollars a month.
To learn more about teaching abroad and TEFL Certification go to our form to request a brochure.