Teaching English
in Peru

Teaching English in Peru
Those seeking to teach English in Peru typically find work in February and March, and again in July and August. While some schools will interview in advance over the phone and via email, most English teachers will be expected to interview in person once they arrive in Peru and they will also be responsible for their airfare, as well as housing. Most teachers in Peru live in apartments recently vacated by previous teachers, and many room with their coworkers.
A solid hourly wage combined with a low cost of living allows those teaching English in Peru to live a comfortable life. Schools typically offer 20-25 hours per week of work, leaving you plenty of opportunity to travel and explore. It is not need to hold a BA to teach English in Peru, but it is preferred by most prospective employers. A TEFL certification is absolutely necessary. Major English teaching jobs in Peru are located in major cities like Lima, Cusco, and Arequipa.


Staff Articles:
Alumni groups:
Want to see the ITA Alumni Facebook group in Peru?
Check their discussions, sharing of tips and information.


Feedback from our TEFL class Alumni who are now teaching English in Peru: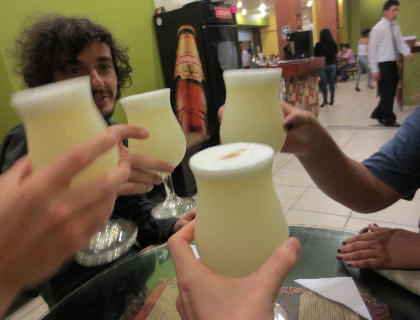 Q&As:
Arequipa, Peru English Teaching Q&A with Sari Atchue
Lima, Peru Q&A with Zac Heisey
Lima, Peru Q&A with Caitlin Self
Arequipa, Peru Q&A with Degen Hill
Lima, Peru Q&A with Kimberly Walker
Miraflores, Lima, Peru Q&A with David Sierra
Arequipa, Peru English Teaching Q and A with Emmie Jae
Lima, Peru English Teaching Q and A with Matt Harley


Articles:
Teaching English in Peru - First World Problems - Caitlin Self
Teaching English Abroad: Because life's too short to not travel - Degen Hill
A Varied Palette in Peru - Caitlin Self
Jumping Off the Edge of the Earth: Surfing and Teaching Abroad - Zac Heisey
Well, Hello There - Degen Hill
Teaching English in Peru - Preparing for the Worst, It's Not What I Thought - Zac Heisey
Saying "Yes": Making the Most of Your Time Abroad - Rachel Reger

Alumni Blogs:
Sari Atchue: http://sariquipa.wordpress.com/
Zac Heisey: http://inthenameofsurf.wordpress.com/
Degen Hill: http://ocpobwd.tumblr.com/
Caitlin Self: http://runningtheworldtravel.wordpress.com/
Emmie Jae: emmiearoundtheworld.tumblr.com
emmieinperu.blogspot.ca
Kimberly Walker: http://www.kimberlyrwalker.com/
Matt Harley: https://www.youtube.com/channel/UCVltGHqYhpdnfQRBADo7udw
Requirements to Teach English in Peru

Education: BA/BS preferred, not required; TEFL TESOL Certification is required. Online TEFL, Peru TEFL or any other International TEFL Courses.

Peak Hiring Months: February-March, July-August
Types of Jobs: Private language institutes
Typical Hiring Process: Interview in person in Peru
Average teaching hours per week: 20-30 hours of classroom & extra prep time
Types of Students: Business professionals
Cost of Living per Month: $600 - 900 USD
(2,000 - 3,000 PEN)

Average Monthly Pay: $600 - 900 USD
(2,000 - 3,000 PEN)

Start-up Cost: $1,350 - 1,500 USD
Potential to Save or Break-even: Break-even
Accommodation/Housing benefits Paid: No
Flight Reimbursement: No




Interesting Facts About Peru


The earliest known evidence of human existence in Peru dates back to 10,560 BC.

The city of Cusco, the capital of the Incan empire and gateway to Machu Picchu, receives nearly 1 million visitors each year.
The city of Cusco also has the highest level of ultraviolet light in the world.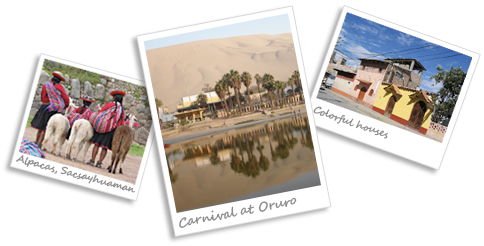 Why Teach English in Peru?
From the lively street markets of Lima and the mystical Incan city of Machu Picchu, to the life-filled jungles of the Amazonian rain forests, Peru is a rich tapestry of natural and cultural splendor. For those who choose to live and teach in this beautiful country, the only difficulty will be deciding which adventure to partake in next. Hikers, climbers and outdoors enthusiasts in particular will enjoy exploring the country's snow-capped mountains, ancient jungle trails, and enormous sand dunes. Try some traditional Peruvian fare, and tell everyone back home that you've eaten everything from cooked guinea pig to raw mollusks!