English Teaching
in Colombia
Teaching English Jobs
English te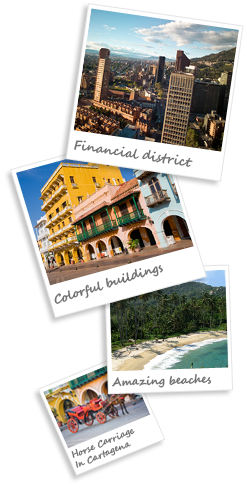 aching jobs in Colombia are in high demand. Colombia sits in the north-west corner of South America, bordered by the Caribbean and the Pacific Ocean, Panama, Ecuador, Peru, Venezuela and Brazil. The Andes Mountains extend into the country in three ranges running south to north, with territory also encompassing Amazon rain forest, tropical grassland and extensive coastline. There are also 15 active volcanoes within the country. With over 45 million inhabitants, Colombia has the second largest population in South America. It is also home to the fourth-largest number of Spanish speakers in the world after Mexico, the United States, and Spain.
Remarkably diverse, interactions between descendants of the original native inhabitants, Spanish colonists, Africans brought as slaves and twentieth-century immigrants from Europe and the Middle East have produced a uniquely rich cultural heritage. Recent years have seen significant increases in military strength and police presence throughout the country, pushing rebel groups further away from the major cities, highways and tourist sites. Colombia's cuisine, influenced heavily by the Spanish and Indigenous populations, offers a range of delectable dishes to try, not to mention fruits, rum, and world-renowned Colombian coffee. English teaching jobs in Colombia start in February/March and July/August time period.
The English teaching job market in Colombia is very good in Bogota, Cali, Medellin, Santiago de Cali Bucaramanga, Santa Marta, Barranquilla and other larger cities.
Learn about other English teaching jobs throughout Central and South America.


VIDEO: Watch International TEFL Academy graduate Tommy Joiner provide a firsthand overview of what it's like to live & teach English in Medellín, Colombia.
Staff Article:
Discover the Secret Allure of Colombia while Teaching English
Learn About Opportunities to Teach English to children in Colombia in the Public Schools
CNN article: 10 things to know before visiting Colombia
ITA Alumni feedback:
Q&A:
Bogota, Colombia English Teaching Q and A with Elisa Cruz

Alumni groups:
Want to see the ITA Alumni Facebook group in Colombia?
Check their discussions, sharing of tips and information.
In The News Goverment rograms for English angauage being taught in public schools:

English Teaching Requirements in Colombia
Education: BA/BS not required but preferred; TEFL TESOL Certification is required and students can obtain certification at any of our Worldwide TEFL locations or by taking the Online TEFL Class.


Peak Hiring Months: January - March & July - August


Types of Jobs: English language schools


Typical Hiring Process: Interview in person in Colombia for most jobs at language schools. Interview in advance for public school positions (read more here)


Average teaching hours per week: 20-30 hours of classroom & extra prep time


Types of Students: Business professionals at most language schools, children at public schools.


Cost of Living per Month:

$500 - 1,000 USD
(1,500,000 - 3,000,000 COP)


Average Monthly Pay: $500 - 900 USD


(

1,500,000

- 3,000,000 COP)


Start-up Cost: $750 - 1,350 USD


Potential to Save or Break-even: Break-even


Accommodation/Housing Benefits Paid: No for language schools, yes for public school programs.


Flight Reimbursement: No



Interesting Facts About Life in Colombia
Colombia is the oldest democracy in Latin America.


The world's greatest diversity of orchid species (3,500) and bird species (1,754) are present here


Colombia is the world's third-leading producer of women's lingerie.


A major source of gold, silver, and coal, Colombia also produces 95% of the world's emeralds.


The most powerful electric eel can be found in the rivers of Colombia
Living in Colombia Teaching English...